Building Your Email List
If you are a business owner, a podcaster, a blogger, or even a 7th-grade student – you have probably been told to create an email list. Okay, maybe that 7th-grade student was mine…and it was on his chore chart. The pains of having a digital marketing dad.
The reasons for building an email list are plentiful, but often the digital nerds like myself will focus on you controlling this list. Over the years, many businesses felt the wrath of Facebook and Google algorithm changes. You were posting on Facebook and thousands of your followers would get your message…and overnight Facebook decided you needed to pay. All of the time and hard work put into building your Facebook audience went away…because you didn't own the platform.
Creating an email list allows you to own the platform. These contacts are people you can communicate with regardless if they have Yahoo!, Gmail, AOL, or Juno. It wouldn't matter if MailChimp decides to close their doors in a few months. Export those contacts and find another provider.
Yes, there is power in having your own email list. The problem for most is – how do I build my email list.
The Premise of Do You Even Blog? Podcast
In my search for finding relevant, quality email marketing podcasts, I stumbled upon a podcast of Do You Even Blog? done in 2017. This was my first sampling, but my podcast checklist worked out. It was time to do a little more research on the host – Pete McPherson.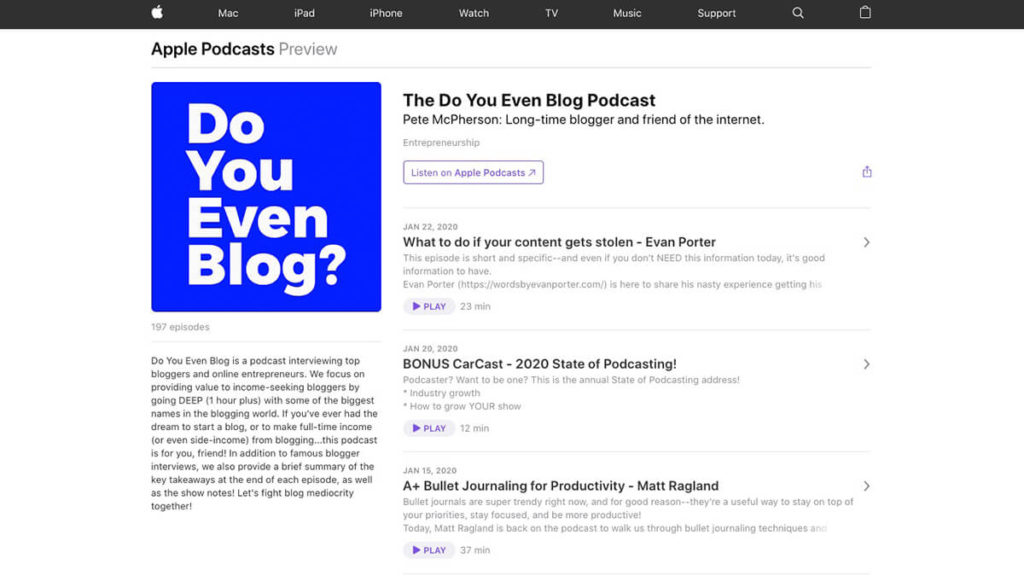 Do You Even Blog is a podcast interviewing top bloggers and online entrepreneurs. We focus on providing value to income-seeking bloggers by going DEEP (1 hour plus) with some of the biggest names in the blogging world. If you've ever had the dream to start a blog, or to make full-time income (or even side-income) from blogging…this podcast is for you, friend! In addition to famous blogger interviews, we also provide a brief summary of the key takeaways at the end of each episode, as well as the show notes! Let's fight blog mediocrity together!

Do You Even Blog on Apple Podcasts
Okay, so the podcast is primarily about blogging. I am okay with that (considering that it is a huge part of my content marketing strategy).
Looks like Phil is getting a new subscriber.
Why Did I Pick a Podcast about Building Your Email List?
Phil talks with Eden Fried and they go back and forth discussing ways they build up (or have built) their email list. It is a nice back and forth conversation where they cover many topics, including:
Focusing on your list before you launch your website
Keep It Simple Stupid – KISS
Do It. Fix it later.
The top 100 people to subscribe
Focusing on that Welcome Email
Freebies
There were a ton of great tips that I am going to implement and/or alter my current strategies. There is no doubt that having an email list can be a huge benefit to spreading your message.
The Podcast: 20 Email List Building Strategies for Beginners
The podcast is around 54 minutes, but you can take a little off of the top and a little off of the back. The meat and potatoes are when Phil and Eden go back and forth with tips (while in some type of coffee shop). The noise isn't that bad and I actually was hoping someone would stop by and drop off a coffee. Technology isn't quite there yet…