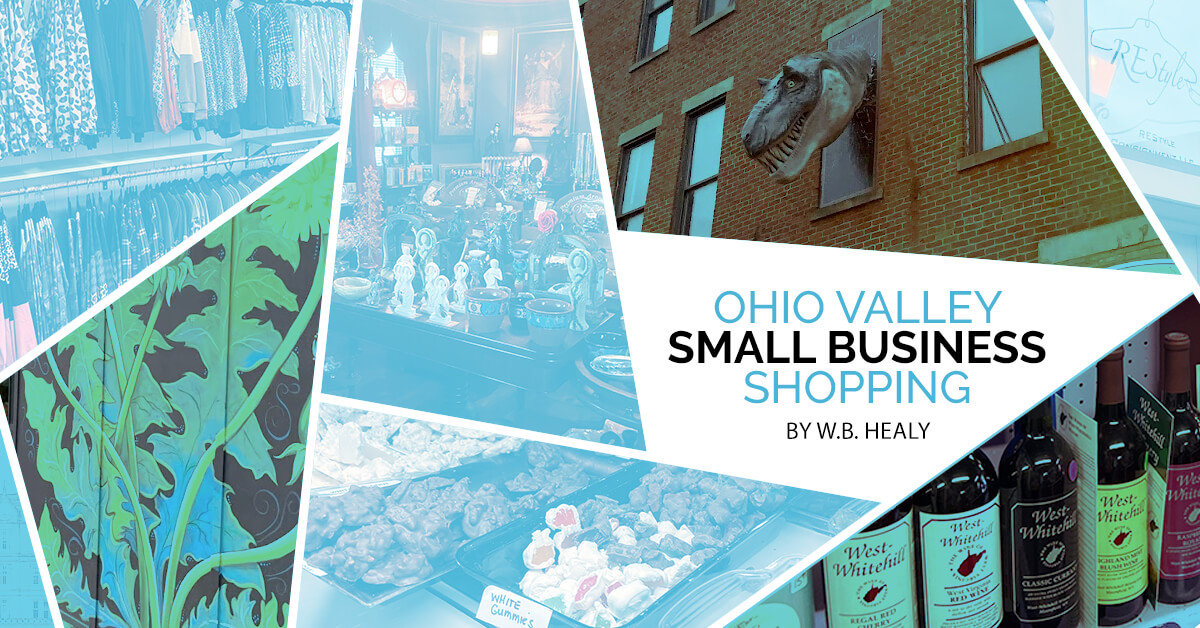 Ohio Valley Small Business Shopping
Every year, it seems that each of us make a goal to "shop small" during the Black Friday buzz instead of deferring to the strongholds of larger department stores, chains, or other cooperate entities.
But, where should you start? Below is a list of a series of different types of stores to shop this holiday season. Here are the featured categories:
Hopefully this will give you a "starting place" for your holiday shopping!
Toy and Hobby
Pat's Trains
Located on 29th Street in Wheeling, WV, this train store is easy to accidentally overlook. Patrick's Trains has a special place in my heart. I grew up helping my dad set up the train layout downstairs, piecing together "old school" Plasticville houses that had been handed down. Dad would let us choose the train: The one he had growing up or our family train. Every year we'd search the valley for brick paper and felt snow, and every year we'd make an evening of setting up the layout.
As we got older, we started making the trips to Pat's Trains. A little smoke oil here, a piece of a track that needed repair there. Pat's Trains is the place to stop if you're thinking of starting a new, small layout in your home or if you are the model train enthusiast. Complete with full train sets in different track sizes, landscape pieces to extend your permanent layout, and a knowledgeable staff, this place is an excellent stop if you're thinking of adding a train to your home. My "Area 51" train came from here, and I love it. Visiting this shop still brings back that delightful sense of nostalgia.
Deluxe Toy & Hobby
When Toys 'R Us closed, there was certainly a sense of sadness. No more Geoffrey the Giraffe. No more large Christmas catalogs. How could we go to a place to browse for toys to get our son and our niece and nephews?
Then I heard of Deluxe Toy & Hobby. Patrons talked of a "three-story toy store" in Martins Ferry, and I was left with one thought: How had I not heard of this place before?
Soon, we made the trip to check out the store and, as they always say, we were not disappointed. Packed with dolls and accessories, books and model kits, Playmobil and LEGO sets, board games and action figures, Colorforms and Play-doh (and that's just to name a few!), this store is worth the trip. We make it a point to do as much of the holiday shopping we have for kids at this store. The staff is exceptional, they pack things away in your car for you, and they have a never-ending stock of incoming toys. If you are looking for a place to see and touch potential gifts in-person, this is the stop for you. I even bought my husband a DeLorean Playmobil set for his office from here—it certainly has something for all of the kiddos on your list!
The Kruger Street Toy & Train Museum
This is a place I don't think most people would think of when they think "toy shopping". Located in Wheeling, WV, this business is a fun place to visit for either a quick "family day" or to complete some shopping. Before you visit their gift shop, you can tour the museum and visit toys of old created by Marx and other toy tycoons of bygone days—all at an affordable price.
But we're here to talk shopping. Each time my kiddo comes home from the Toy & Train Museum, he always comes home with two things: a unique, interesting toy you couldn't find elsewhere, and a "grab bag"—we all know how trendy the "surprise bags" and "mystery toy boxes" are with this YouTube "unboxing" generation—These Kruger Street grab bags echo of that thrill.
Plus, you can visit there in-house kitty, Loo, for even more smiles. It's a perfect little stop this holiday season.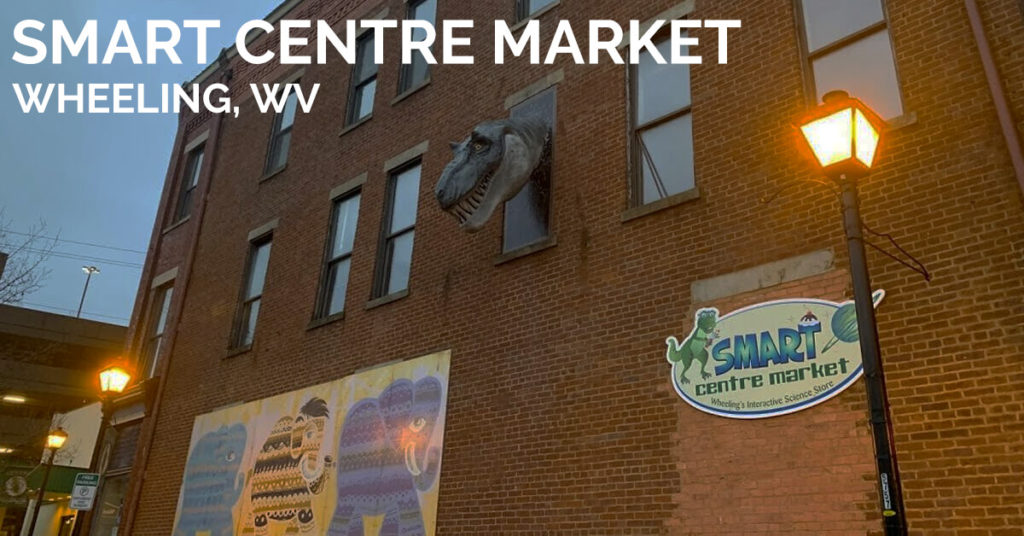 SMART Centre Market
Complete with fossils, rocks and minerals, telescopes, microscopes, and other "science stuff", this business is not just a science museum—it's also a cool place to shop for the science-loving enthusiasts on your gift list. You could easily find something for everyone!
The gift shop includes rocks, minerals, fossils, science experiment kits, science-themed books, and other fun gifts—not to mention you can get an ice cream cone when you've finished your shopping! In addition to hosting stargazers, traveling with a mobile Star Lab, and making other science-filled presentations, the staff here is knowledgeable about their craft and their merchandise. You are bound to find something for that person on your list that likes something a little different! Be sure to stop in!
Sweet Treats and Fun Foods
Grandpa Joe's Candy Shop
If you have the time to make a short "day drive" to Pittsburgh, PA, be sure to check out the Strip District (a few more shops from this area will be included later on as well) and stop at Grandpa Joe's Candy Shop. We had visited here a few times before, but the business has only grown!
Grandpa Joe's features a friendly staff, "old school" candies of yesteryear, an entire wall of soda-fountain glass bottled pop, bulk helpings of "all the good stuff", wild "character" or "sassy" socks, and entire section of games and toys—and that's just to name some of this shop's features. I like to go here to purchase Blue Gummy Sharks in bulk (they're my favorite!) and to try a new soda (we tried a Butterbeer this time) or purchase my go-to, Cheerwine. With an accommodating staff, a super awesome selection, and a positively incredible "vibe", you could easily spend over a half an hour in this store, just looking around—and you'd see something new every time! This shop is great for candy lovers and unique gifts. Definitely put in on your list as a stop!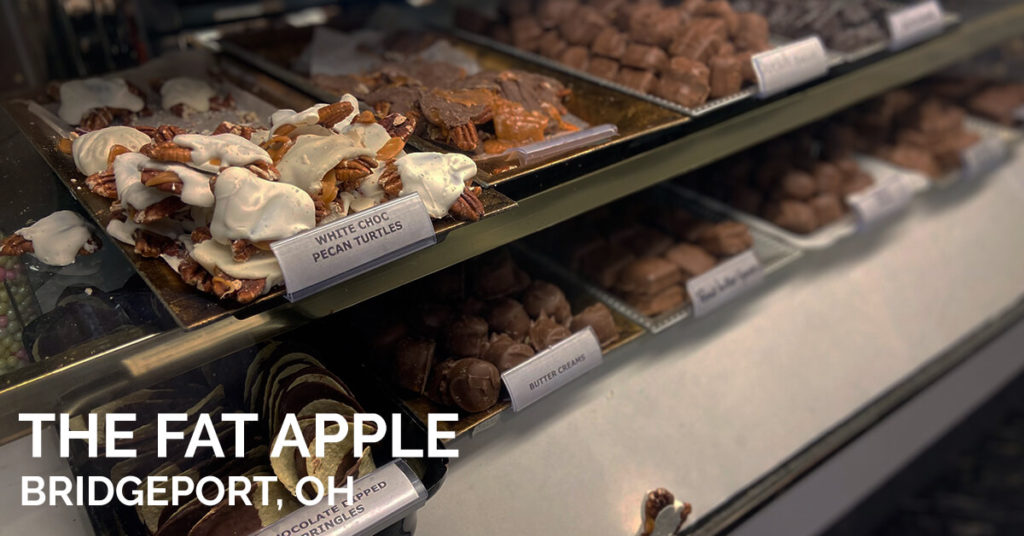 The Fat Apple
Address: 225 Main Street, Bridgeport, OH
How I made it months, maybe even years, before I visited this shop is beyond me. Last month, I made the trip to The Fat Apple for the first time. I was so overwhelmed (in a good way!) that I took a seat on their red couch and took it all in. From a whimsical, carnival atmosphere; to a phenomenal staff; to a quite possibly limitless choice of candies, sweets, and treats; to a "one-stop" for other quick gifts for people on your list, I will most certainly be FREQUENTING The Fat Apple. When I stopped in, I got to speak to Chef Whitney (who, coincidentally, has a top-notch name) about her business. She told me how very, very early on they realized The Fat Apple was "not just meant for caramel apples"—her vision was much, much bigger.
When you enter The Fat Apple, you literally become that cliché "kid in a candy store". There is a selection of hundreds of hand-dipped chocolates, cupcakes, cookies, cakes, bulk candy, bags of fan favorites, "old-school" candy, and of course—the caramel apples. While I was there, I purchased two caramel apples (Oreo and white chocolate), a bag of mix hand-dipped chocolates (all amazing, all incredible), and just enjoyed "taking in" an exciting, brightly colored atmosphere reminiscent of the toy store in Home Alone or Willy Wonka's Chocolate Factory—and this was when I was by myself! Soon, I play to take our seven-year-old here, and I know he will be in his "happy place".
With reasonable prices, a wide variety of candies, sweets, and and unique gifts, a friendly staff, and that overall "aesthetically pleasing environment" most of us foodies long for, this is a place you must stop into. And don't be shy do visit all by your lonesome—I certainly wasn't! I highly recommend visiting this place. Phenomenal. You won't be disappointed.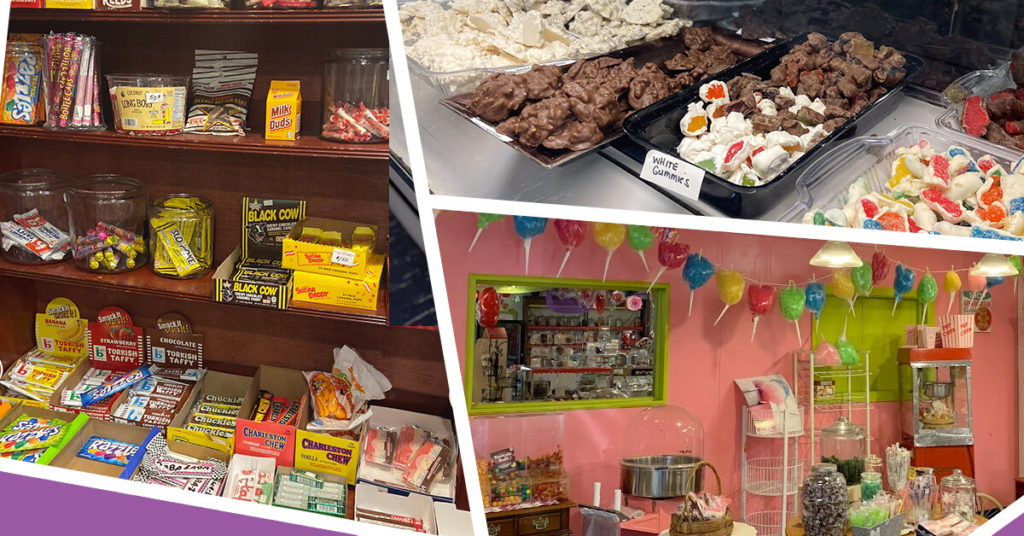 Mmm Popcorn!
A few times a year, we try to make a visit to Mmm Popcorn! The owner is "good soul", the business has participated in school fundraisers, and the popcorn selection is outstanding! Mmm Popcorn features gourmet flavors such as Sea Salted Vanilla, Kickin' Caramel, Dill Pickle, Wheeling Firehouse (one of our favorites), Buckeye Caramel, and more. The shop offers popcorn purchasing in Mini, Small, Medium, Large, and Party sizing, so you can certainly find what you need with those options! Not sure what kind to get? The owner has been known to offer small samples of different kinds so that you can truly pick the flavor best for you. Mmm Popcorn would be a great place to stop if you are putting together a Christmas gift basket, sending out a care package, or looking for some little stocking stuffers. Go check it out!
Wine, Coffee, and Tea
Good Mansion Wines
Good Mansion Wines is one of my favorite places to stop! Complete with a phenomenal wine selection; delightful homemade breads, desserts, and pastas; an incredibly knowledgeable staff; a wide variety of cheese selections; and a pleasant-to-the-palette menu, Good Mansion always ends up with a nice portion of my holiday shopping.
I like going here to try some of their daily desserts, to stock up on my favorite WV wines, and to buy fresh baked bread—plus I just love the atmosphere! Each time I've gone to Good Mansion I have left satisfied with the service the staff offered. Good Mansion would be an excellent place to put together a holiday care package or could be used to arrange that perfect "Christmas Eve" or "New Year's Eve" basket. I highly recommend stopping here this holiday season!
Heller's Flowers
Tucked away on a cute little corner on Jefferson Avenue in Moundsville, WV, this little shop is easy to overlook, especially since the name makes a person think it's just a flower shop: it isn't.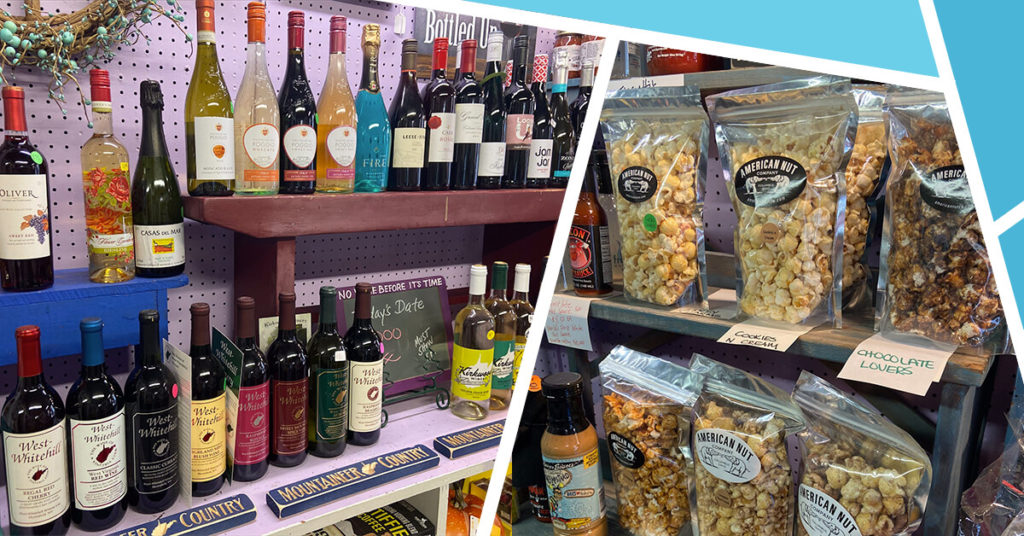 Heller's Flowers has been a reputable, family-owned business in Moundsville for decades, and it's still one of my favorite places to stop. Heller's Flowers carries a decent wine selection; gourmet popcorn; local sauces, salsas, and jellies (Figaretti's, "Amish" style salsa and jelly); and some premium chocolates and nuts. I like to stop into Heller's for my favorite spiced wine or for their homemade ravioli and pierogis (which come in different flavors!). The business has that quaint, "old-school" family-operated feel and every person working there is always smiling.
I recommend stopping here if you're not much for traveling to far out of the way and if you appreciate supporting a small business. You will note be disappointed!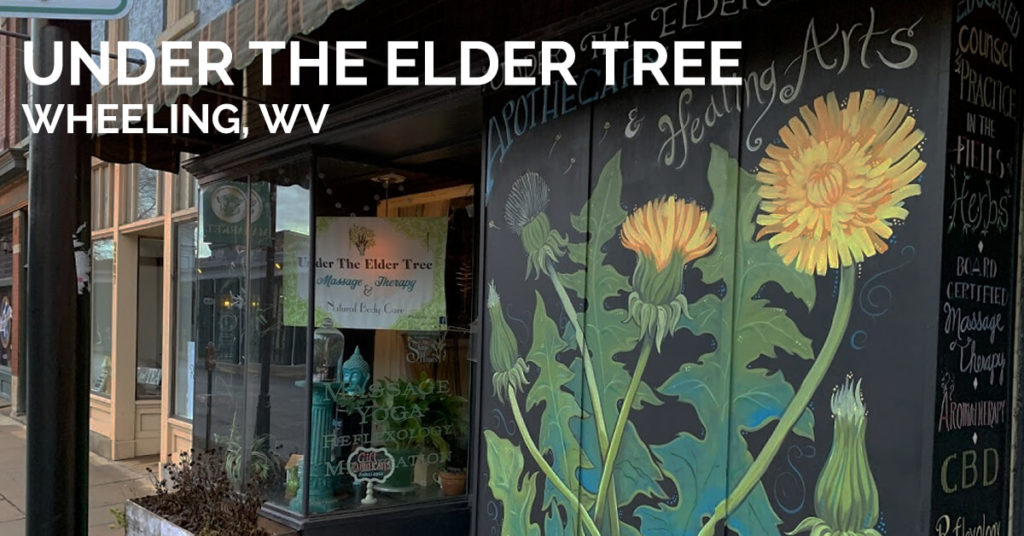 Under the Elder Tree Apothecary & Healing Arts
Address: 2205 Market Street, Wheeling, WV
Website: UnderTheElderTree.com
*Note: This business also fits in the "Oddities and Metaphysical" as well as the "Self-Care" Category
Located in Centre Market in Wheeling, Under the Elder Tree may be my "favorite find" when putting together this article. Plus, it was hard to place it in any one category. Ultimately, I decided to use Under the Elder Tree for this category because of its amazing loose leaf tea selection.
Under the Elder Tree carries a variety of loose leaf tea for all sorts of different purposes ("Wake", "Focus", "Chai", "Midsummer Night", "Lazy Daze", and "Aware", to name only a handful!). The teas are hand-crafted in the shop and ingredients are uniquely selected to achieve said "goal" purpose. As an avid tea connoisseur (I even have a hat box full of tea), this is a wonderful stop for the tea-lovers in your family.
It's important to note that Under the Elder Tree also carries crystals, candles, jewelry, and metaphysical books. The business also offers tarot and other card readings and has an entire area upstairs for massages and other therapies. There's even a full room surrounded in Himalayan salt. The place is gorgeous. I highly recommend stopping here!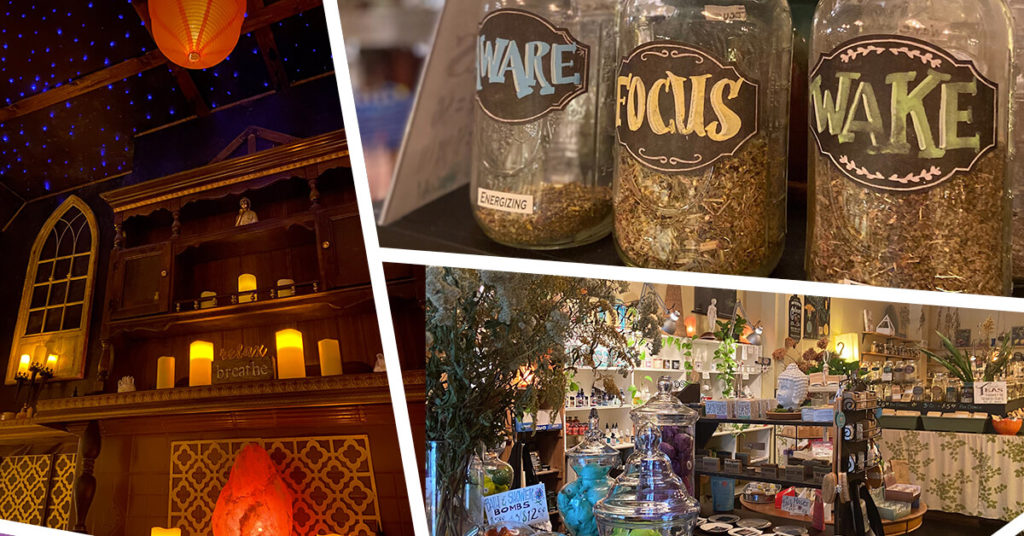 Allegheny Coffee & Tea Exchange
I discovered Allegheny Coffee & Tea the first time I visited Pittsburgh's Strip District so many years ago. First drawn to this store for its selection of loose leaf tea, I still am certain to stop here every time I'm in the Strip. Though from my memory the shop first seemed to be for tea exclusively, it now is a hotspot for really, really good coffee.
At Allegheny Coffee & Tea, you can try any of the select six coffees they have "on tap" at their coffee bar. These are typically Nitro-style brews and you can even order yourself a growler of your favorite, for those extra Monday-Mondays. Really like trying new coffees? Well, you're in luck, because from what I counted, there are over 100 coffees to choose from. On top of that, the avid tea lover on your list can select from over 40 kinds of loose leaf tea.
This is a great place to stop for stocking stuffers, last-minute gifts, or a recharge when you're shopping along the Strip. The company also offers online ordering and shipping. Check it out!
Wheeling Coffee & Spice Company
Address: 13 14th Street, Wheeling, WV
I wanted to include Wheeling Coffee & Spice Company in this write-up because of its simplicity. They just serve really good, high-quality coffee. No exotic fanfare. No "long drive" to try something new and different. Just a good cup of joe. Or, my personal favorite—a hot Milky Way.
Located just across the street from Wesbanco Arena, Wheeling Coffee & Spice is a wonderful little stop to gather with friends for a cup of coffee, to take a lunch break, or to pop into for a quick cup while you're out and about. The shop offers around 30 different kinds of coffee, whole-bean or ground, for you to take home as well. My sister-in-law lives about five hours away, and this is where I get her "good, local coffee" every Christmas. I highly recommend stopping here for whatever coffee need you may have!
Local Art, Culture, and Self-Care
The Paradox Book Store
If you have grown up in the Wheeling area, you have walked into the Paradox Bookstore at one point in your life. I still have fond memories of getting fish sandwiches with my dad and then wandering into this book shop, amazed that there could be so many unique, used, and old books in one place. I also remember the sweet little pup that used to roam around when Tom Stobart was in good health, my little-girl self amazed that someone owned a business and let his dog hang out there. As I grew into an adult, I learned that Tom wasn't just the "cool guy with the bookstore with a dog". I learned he had contributed highly the the arts in the Wheeling area, was a playwright, and was highly involved with the Towngate Theatre, a place I have always held dear to my heart. With that knowledge, my love of this bookstore only grew.
Now under new ownership, the "oldest bookstore in West Virginia" is still operational. It's the perfect place to visit for the book lover (or book collector, really) on your list, as the shop not only offers a wide variety of used books, but also offers some highly sought-after collectible rare books. The shop now also offers tarot readings, for those of you who are even more adventurous. Be sure to pop into this "eclectic shop" as you complete your holiday shopping.
The Gift Shops at the Grave Creek Mound and West Virginia Penitentiary
Mound Address: 801 Jefferson Avenue, Moundsville, WV
Penitentiary Address: 818 Jefferson Avenue, Moundsville, WV
Website: https://wvpentours.com
I have always had an appreciation for West Virginia history and culture. Still today I enjoy visiting the museum at the Mound or walking around the Penitentiary grounds. I chose to put these two shops on the list in case you are shopping for someone who shares the same love of all things West Virginia.
Open during the operating hours of each of these locations, each of these gift shops carries uniquely West Virginia gifts. From fossils to t-shirts to mugs to books about Moundsville or other West Virginia towns and cities, giving something from one of these shops is sure to put a smile on the faces of those who flourish when learning about our art and culture. Both shops are great choices for gift shopping for those who have moved away or who are proud of their heritage.
Handmade Holiday at the West Virginia Artisan Center
Address: 1400 Main Street, Wheeling, WV
Website: http://www.artisancenter.com
NOTE: This commentary is a one-day only event, not a "store" or tangible location
One December 4th, 2021, from 11:00AM – 6:00PM, Wheeling Heritage will host a shopping event that features handmade work by local artists and artisans. The event suggests a "one-of-a-kind" gift-giving experience and will be organized in a "marketplace" style fashion. Attending the event is a great way to jump-start your holiday shopping.
Can't make the event? Well, that's okay, too! The Wheeling Artisan Center is open every Tuesday-Saturday and offers online shopping. The shop carries handmade mugs and glassware; hand-poured candles; homemade jams and jellies; soup mixes and salsas; wooden toys; locally-themed-and-made apparel and much, much more. Stopping into the West Virginia Artisan Center is a wise choice to check off those on your list who love localized gifts.
Tranquil Touch Therapeutic Massage
Address: 308 Jefferson Avenue, Moundsville, WV
Website: http://moundsvilletranquiltouch.com
When I was putting together this list, I knew I wanted to include some "self-care" options, as I know how much I love when my husband says "You know what, you should book a massage" or "Schedule a nail appointment" (I promise this has happened!). All of us can benefit from that period of rest and relaxation.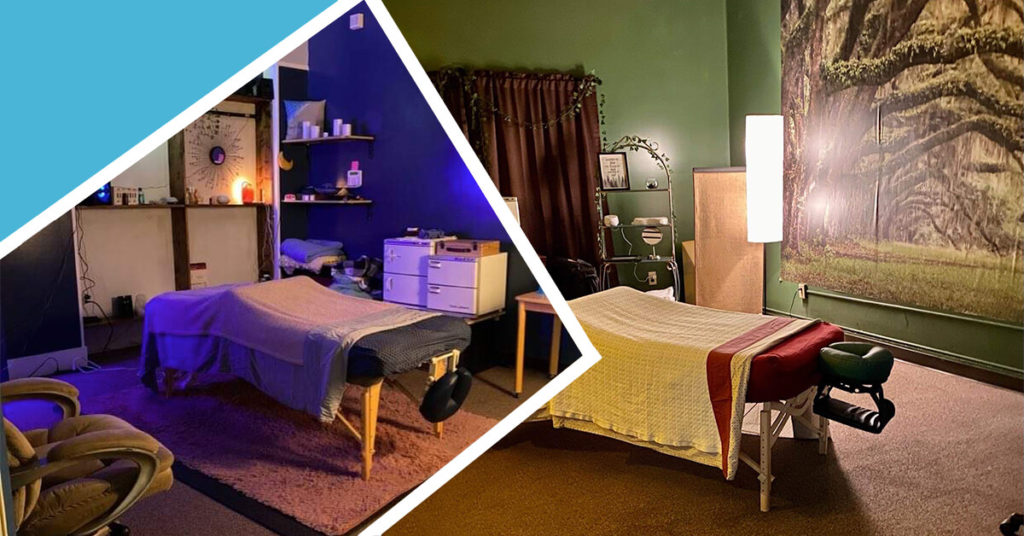 Alita is a licensed massage therapist offering reflexology sessions, Reiki massages, body mud wraps and exfoliations, and other massage types. Her business is located in an easy-to-get to area and offers a calming, overall "recharging" atmosphere. Booking one of her sessions for that super-special person on your list that does so much would really make his/her day.
Frederick's Day Spa Salon
Of all the Ohio Valley nail and hair salons, Frederick's Day Spa Salon is the one I keep going back to. With a pleasant, experienced staff and a wide variety of services, Frederick's Day Spa Salon really is the "whole package".
Frederick's offers couples and invidious massages; eyebrow and eyelash services; manicures; pedicures; hair cuts and color; nail dips; facials; "barber shop" styling; and so much more. Though my outings to the salon are fewer and farther between of late, when I do go in for that oh-so-special mani/pedi, I always end up at Frederick's. If you are looking for one last gift for someone extremely special on your list, book them an appointment for one of this shop's services. He or she will not be disappointed.
Oddities and Metaphysical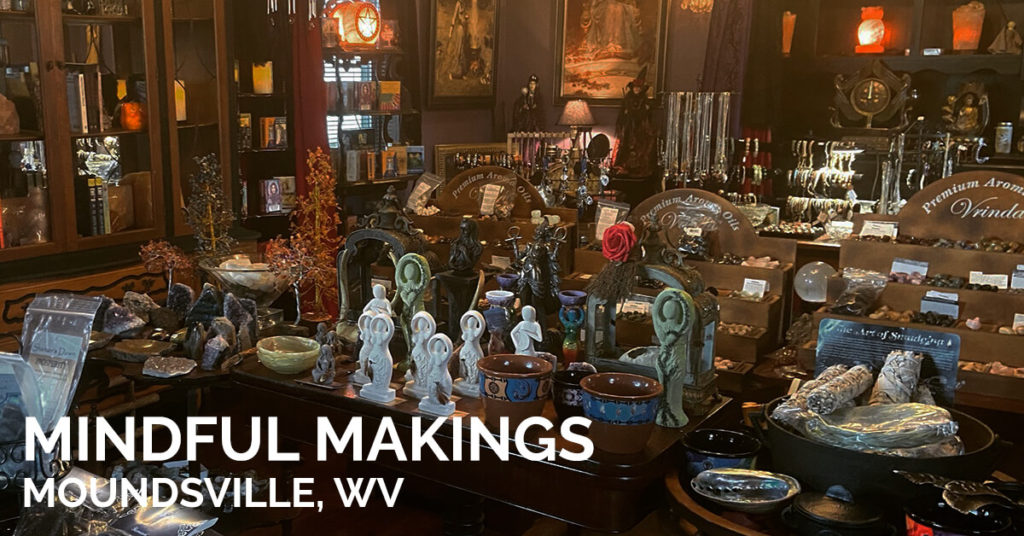 Mindful Makings
Address: 1808 7th Street Rear (alley side), Moundsville, WV
Website: https://www.mindfulmakings.net
Yes, I am a "crystal girl". I also enjoy quiet meditation, burning incense, candlelight, and oddities and curiosities (we actually have an "art wall" in my living room of both local and off-the-wall art).
Mindful Makings is certainly a unique gift shop. Considered a business to find "metaphysical" products (think tarot cards; incense sticks and burners; stones and crystals; crystal bracelets, necklaces, and charms; candles; sage; and herbs), this is a place I frequent. Lately, I've been exploring that art of self-exploration, relaxation, and empowerment, and this is a very, very comfortable space for me. I absolutely love it here. In fact, I'd hang out here and read, if Melody would have me.
Using an old-school calculator and carbon paper, Melody, the owner, is one of the sweetest women I have met—and she is incredibly knowledgeable. The other day I went in to find a deck of cards for "daily positivity and motivation". You can Google this, sure, but it isn't the same as really looking at hate product. Melody was completely open to unpacking a couple of the decks I thought I was considering, and I ended up finding exactly what I was looking for.
Well Oiled
This is the second "metaphysical" shop on my list, and it comes with 5-star recommendations from fellow crystal and candle lovers.
Well Oiled is a shop in Canonsburg, PA that carries all kinds of different metaphysical goods. A shopper here can find crystals; candles for candle magick; one-of-a-kind pieces of jewelry made by local artisans; handmade wands (maybe you have a Harry Potter lover in the family?); and a variety of essential oils and essential-oil products (body care, diffusers, jewelry, many others). . In addition, the shop offers mini-workshops in categories like "Tarot Reading"; "Shadow Work"; "Morning Yoga"; and others. Be sure to add this stop to your list for those super unique folks on your list!
The Weeping Glass
Okay. I am in love with this place and I haven't even been to the actual business yet!
I first came across The Weeping Glass when I attended the Bitchcraft Fair in Pittsburgh, PA earlier this year. The shop had an extremely aesthetically pleasing setup (to my interest and eye, at least), complete with black-maroon-gold color coordination; phenomenal display organization; a variety of loose-leaf tea (my happy place!); and even a series of "Masters of the Macabre" candles that included an Edgar Allan Poe candle that was the essence of "opium, cedar, and brandy" (and if you're the Poe enthusiast like me—that is completely spot on! Though, admittedly, I went with the Bram Stoker candle, essence of "merlot and clove"—positively wonderful. The scent fills the whole house. Perfection.)
Here's why I'll be visiting The Weeping Glass the next time I'm in Pittsburgh: this business isn't just for shopping—it's also considered an "Oddities Emporium" of sorts. So, if you don't go there to shop, you can at least go there to look at all the strangely curious, odd creations. If you do choose to complete some shopping here, the shop carries candles; fossils; Krampus and Hallowed-themed merchandise; bath bombs; beard "tonics"; macabre-themed books; perfumes; colognes; "parlour teas" and tea spoons, sets, etc.; and so many other incredibly odd, fabulous, unique, curious, and unusual gifts.
I absolutely cannot wait to check this place out, but if I can't get there in person, I will most definitely be ordering online! This shop is run by "my people"!
Locally-Owned Apparel Shopping
Boss Babe Boutique
Address: 272 Jefferson Avenue, Moundsville, WV
Website: https://bossbabeboutiquellc.com
I can't remember exactly how I found Boss Babe Boutique, but since I discovered it, it has been a shop I try to visit at least once every few months. Boss Babe Boutique's inventory consists of women's apparel; children's apparel; local crafters' handmade items (koozies, keychains, other personalized gifts); keto-friendly snacks and hot chocolate bombs; winter wear; and so much more.
When I am looking for something new "just for me" I like to shop here because of the atmosphere: Helena, the owner, and her employees have a way of making someone feel special, welcome, and confident. Though I'm pretty comfortable with my appearance, I am an "hourglass size 12", and everything Boss Babe Boutique offers makes me feel good about what I'm wearing.
The shop also offers gift cards, an App Store, and a variety of seasonal gifts. Be sure to check out Helena's place as you shop small this holiday season!
REStyle Consignment, LLC
I am not sure about you, but I absolutely LOVE thrifting, up-cycling, repurposing, and gifting unique consignment finds. When I first heard of REStyle Consignment, LLC, I knew it would be a place I would love. This shop's quality of items and prices are extremely reasonable, the owner is organized and knowledgeable, the selection is unique, and the items are high-quality, even though used. Most of the apparel is geared towards women and includes items like purses and shoes as well. The shop carries brands most people would recognize, is "up on trends", and is a place that leaves you feeling good about what you purchased because you're reusing something. Located on Market Street in Wheeling, I would highly recommend stopping into REStyle Consignment, LLC for you holiday shopping!
Payton's Pretties Consignment Boutique, LLC
Address: 355 Wharton Circle, Triadelphia, WV
I first stopped into Payton's Pretties a few weeks ago in my quest to explore boutiques I had not heard of before. Payton's Pretties came with outstanding recommendations on social media, and so I stopped in to check it out—I was super impressed.
Payton's Pretties is a small women's consignment store at the Highlands near the movie theatre. It's easy to miss, which may be why I hadn't heard of it before. When I first walked in, I was comfortable. The shop is organized well according to size, style, new arrivals, purses, formal wear, and so on—overall aesthetically relaxing. On top of that, Payton's Pretties offers a state-of-the-art, user-friendly, easy-to-navigate website, linked above. I wasn't able to spend a whole lot of time in the shop, so I was thrilled to find out they offered an online presence. The next time I want a little something special for me, I will definitely be visiting this shop and/or shopping online. I highly recommend it!
Ruttenberg's
If you've been in the Ohio Valley for even a short amount of time, you know Ruttenberg's. Located on Jefferson Avenue in Moundsville, WV, Ruttenberg's is a family-owned business that carries work boots and clothes; men and women's apparel; and children's apparel. Featuring brands like Under Armour, Carhartt, Lee's, Wrangler, and specialized outdoor brands, I like to go here to shop for my brother-in-law, my husband, and my son. It seems as though stores that specialize in Men's Apparel are hard to come by in the Ohio Valley, so if you prefer to look at items in-person before you purchase them for someone, Ruttenberg's is the perfect stop.
Moonlight Intimate Apparel
Address: 2232 Market Street, Wheeling, WV
New to the Ohio Valley in October of 2021, I'm quite sure Moonlight Intimate Apparel is the store all local women have been hoping for. Most of us tire of shopping online, going to the same intimate apparel stores time after time, fighting to find something that fits well, or struggling to find something sexy and affordable. Moonlight Intimate Apparel offers a selection of lingerie, panties, nighties, sleep sets, gowns, robes, locally made candles, sexy shoes, perfumes, and their news product—an actual Build-a-Bra. Yes, I said it. A bra YOU build to meet your personal style, comfort, or support needs. If that hasn't "sold" you on making a visit, the shop also does not charge more for "Queen" sizing, offering an "all-inclusive" shop for women of all shapes and sizes.
But wait—there's more. The shop is all about body positivity, and even offers a "Boudoir Selfie Room" where a woman can grab some sexy props, a piece of attractive lingerie, prop up her phone, and have her own "private mini-photo shoot". The shop also offers professional Boudoir shoots, will host Bachelorette Parties, and so much more.
And I know just when I'll be stopping into this shop this holiday season—On November 26th and 27th, Moonlight Intimate Apparel is offering a special "pick a rose" discount option with all sorts of perks and prizes. I cannot wait to check out this place—and it's only a ten-minute drive from my place!
---
I hope that this list of recommended small businesses will help jump-start your holiday shopping. The Ohio Valley small businesses really do offer "something for everyone".
W.B. Healy, Freelance Writer
---
Do you have an idea for a really, really good story? Would you like your business to be featured on my next blog?
If so, send an email to wb.healy@yahoo.com for rates and inquiries. I can't wait to write your story!
Have a fantastic holiday season!
-W.B.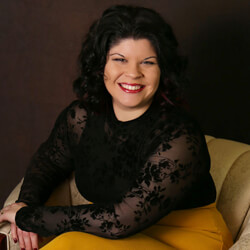 ABOUT W.B.
W.B. (Whitney) Healy is a full-time high school English teacher and part-time freelance writer in Moundsville, West Virginia. Her favorite stories to write include a celebration of all things local, with content like exploring small businesses, interviews with local artists, showcases of live theatre, and reviews of local restaurants.
Whitney enjoys reading, writing, the outdoors, baking, art museums, black cats, and live music. In the past, Whitney directed the spoken word group "The Prosers" at Towngate Theatre in Wheeling, WV.
She is currently writing an epic fantasy novel based on Norse Mythology and is hoping to finish this work by 2022 (and maybe even publish it!).
Instagram: @wbhealy.writer