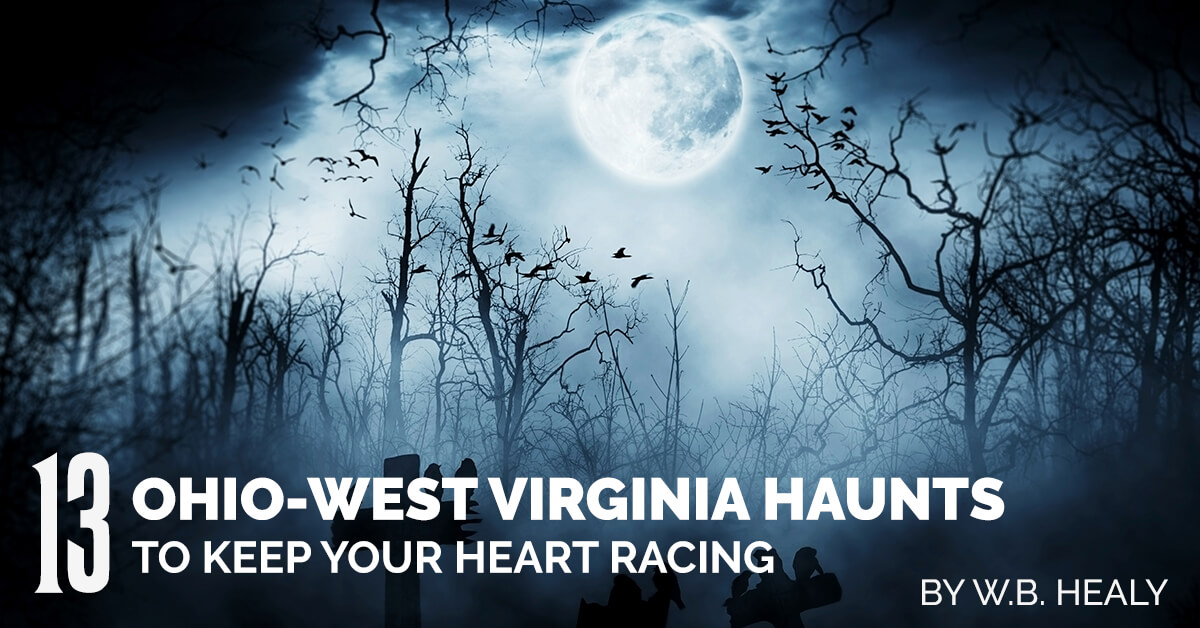 13 Ohio-West Virginia Haunts to Keep Your Heart Racing
Oh, yea. It's Spooky Season.
An avid lover of all things macabre and seeker of any and all haunted attractions within a reasonable driving distance, October is, by far, the best month of the entire year (and that's a FACT!). Between haunted corn mazes, fall festivals, jack-o-lanterns, costume parties, and haunted houses (not to mention my birthday is October 6th…haha!), October is when I am at my best.
In our younger years, my husband and I would travel to all ends of the Ohio Valley to "scout-out" the best haunted houses in the tri-state area. Even better—in a few short years, we will be reliving those Haunted House adrenaline days when we take our soon-to-be seven-year-old son on those spooky excursions as well—just not yet.
For now, I get to tell you all about the "best of the best" haunted attractions for you and yours.
Fair warning: most of these spooky settings are made for an audience of thirteen and above, so be sure to consider that before you take the whole clan.
Below is a list of 13 Haunted Attractions: the first few will be within a quick driving distance of Wheeling, WV, but there are a few more "exclusive" attractions that require some serious travel—and those will be marked accordingly.
Prepare to get your spook on…
Infernum in Terra: Hell on Earth
Location: Wheeling, WV
Times: Every Friday and Saturday from 6:30 to 11:00PM; Sundays from 6:30 to 9:00PM. The attraction will also be open November 5th and 6th from 6:30 – 11:00PM.
Website: www.hellonearthhaunt.com
Located on Jacob Street in Wheeling, WV, this haunt features theatrical and interactive components, telling a story as you walk through the 25-minute tour. Noted as an attraction that will "give you nightmares like you've never experienced", Infernum in Terra: Hell on Earth, is sure to terrify…
Dungeon of Horrors, 998 Ways to Die
Location: Moundsville, WV
Times: Fridays and Saturdays in October
Located in Moundsville, WV, this haunted prison allows you to witness "murder, decapitation, and suffocation" AND experience the "fright of being locked in a cell" along with experiencing "being lost in a maze". Featuring well-trained actors (my husband even served as an actor for this when he was a teenager), a totally creepy vibe, and located in a totally historic state penitentiary, this walking tour is sure to impress. Not so into the jump-scares, blood and gore, or all other things terrifying? The Dungeon of Horrors also features spooky, milder "paranormal tours" at its North Side, so there is truly something for everyone!
Fear Field
Location: St. Clairsville, OH
Times: Fridays and Saturdays in October, 8:00 – 11:55PM
Website: www.fearfield.com
Found in St. Clairsville, Ohio, just a short drive from Wheeling, is Fear Field. This haunted experience is an outdoor trail walk where guests will "experience fear beyond belief" and is "a scary, gut-wrenching experience" for all attendees. Open even if it's raining, this haunted walk is certainly one to check out!
Wells Township Haunted House
Located in Brilliant, Ohio, around thirty minutes from Wheeling, WV, is the Wells Township Haunted House. Featuring "old-school style" haunts and exclusive live characters outside (where you wait in line), the Wells Township Haunted House is a personal favorite. They even offer a "lights-on" tour in mid-October for less-gutsy guests. With a building itself that is -supposedly- haunted and Z-Tag, an all-new zombie feature, the Wells Township Haunted House is worth the drive!
The Hidden Haunted Attraction
Location: East Liverpool, Ohio
Times: Fridays and Saturdays 8:00 – 12:00AM
Website: Information on Facebook under "The Hidden Haunted Attraction"
This location features a haunted trail for the more "intense haunt lovers", mini-golf (totally kid-friendly!), and paintball are also features of this haunt. This location also will feature a "Halloween Spooktacular" on October 16th from 10:AM – 5PM, complete with bounce houses, a magician, balloon animals, and other fun family activities. This is definitely worth the trip!
Maniac Mountain
After about a two-hour drive haunted house enthusiasts can travel to Buckhannon, WV to experience three different attractions. Maniac Mountain features a haunted house, a haunted cornfield, and a "death metal" experience. The haunted house part of this attraction follows a tale of lust and love, murder and vengeance—all between a baron and his young bride. If attendees walk through the haunted Cornfield, guests see how "evil creeps into the field" at dusk, where the Baron's refugee servants attempt to seek escape. Lastly, guests can attend the "death metal" experience, which claims to "crush your soul and twist your mind".
"Delirium" at the Trans-Allegheny Lunatic Asylum
Location: Weston, WV
Times: Fridays and Saturdays in October, dark to 11:30PM; Thursdays and Sundays beginning September 24th from dark to 9:30PM.
Website: www.theasylumwv.com
Located about 2.5 hours from Wheeling, WV, this haunt explores the halls of an insane asylum. This experience features "a doctor and his sadistic experiments", where patients "scratch and claw through their existence". Bound to echo of the chilling storyline of a madhouse driving its occupants into deeper insanity, this haunted house is bound to chill you to the core.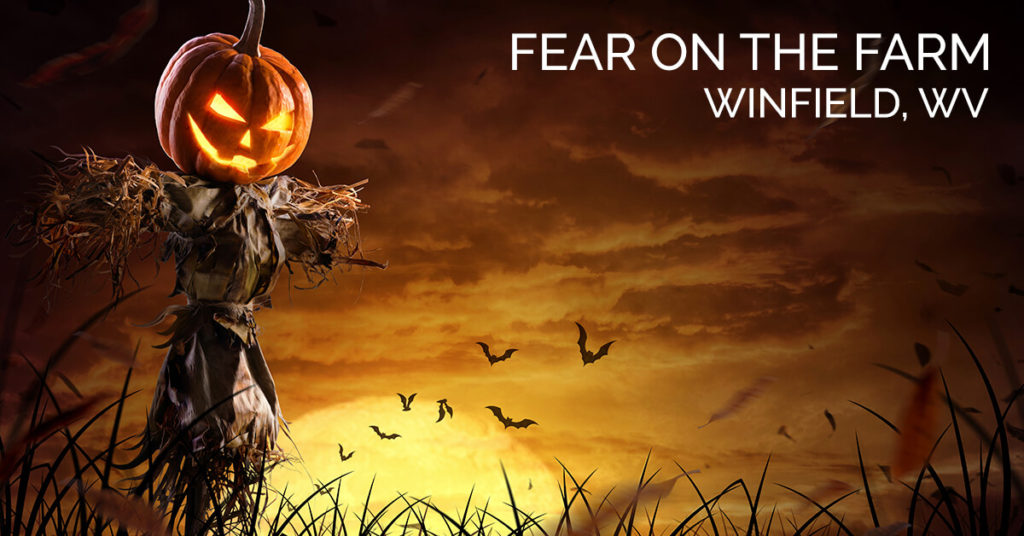 Fear on the Farm
If you're willing to make the three-hour drive from Wheeling to Winfield, WV, Fear on the Farm may be the attraction for you. Featuring a haunted house, a haunted woods walk, and a virtual reality tour, this attraction will certainly give you a scare. Guests are able to choose three options: Bloody Mary's Labyrinth of Lost Souls, the Manslaughter Mountain Haunted Woods, and the Mysterious Mountain virtual reality experience.
The Labyrinth: In this experience, "(Bloody Mary) will torment the mind(s)" of guests, who will come face-to-face with her personal demons.
The Woods: Here, "ancient spirits and demons" lurk in the woods, where "monsters await your arrival" around every turn.
The Mysterious Mansion: A virtual reality experience that is certain to scare attendees.
Scareview Grave Schoul
Location: St. Albans, WV
Times: Fridays and Saturdays in October from dusk to midnight
Website: Information can be found on Facebook by typing in "Scareview Grave Schoul"
About three hours from Wheeling in St. Albans, WV, the Scareview Grave Schoul, seemingly "haunted" itself, is a haunted house that walks through an old grade school, using multiple floors of the school for its attraction. Run entirely by volunteers and hosted by the St. Albans VFD, this haunt is certainly one to try!
The Hysteria Haunted Experience
Three hours from Wheeling, WV is the Hysteria Haunted Experience in Spencer, WV. Themed "Creepshow" this season, this attraction features a haunted house, a haunted trail, and you can even get a T-shirt to commemorate the experience! The "Haunted Hollows" walking haunt will thrill you with creatures of all kinds, while the 30,000 square foot haunted house will cause a "pure (rush of) adrenaline (and) terror." Featuring components such as a "pitch-black maze" you can only solve by touch and including even a foam pit, this haunt may be worth the day trip!
The Haunted Majestic
Location: Huntington, WV
Times: Every Friday and Saturday in October, 7:00 – 11:00PM
Website: www.hauntedmajestic.com
If you want to visit an attraction that was voted the "most unique attraction in America", the Haunted Majestic is the haunt for you: this haunted house floats. Located on Kyle Lane in Huntington, this haunted boat is sure to give treat you to "horrors you will never forget". And, if you're not so sure if boarding a ghostly barge is right for you, this location also offers paranormal tours and ghost hunts around the Majestic grounds. Make the day trip. Board the boat.
Twelvepole Manor Haunted Attraction
Location: Wayne, WV
Times: September 24 – November 7th, Fridays and Saturdays, 8:00 – 12:00AM
Website: Information on Facebook under "Twelvepole Manor Haunted Attraction"
For the true enthusiasts who don't mind a "day trip" to visit a new haunt, the Twelvepole Manor Haunted Attraction may be the match for you. Located four hours from Wheeling in Wayne, WV, this attraction is opened every Friday and Saturday from late September to early November. Supposedly located in an "actual" haunted house and featuring "intense" haunted features, Twelvepole takes guests on a "tour" of an actual manor built in 1889: historical and haunting—worth the overnight trip!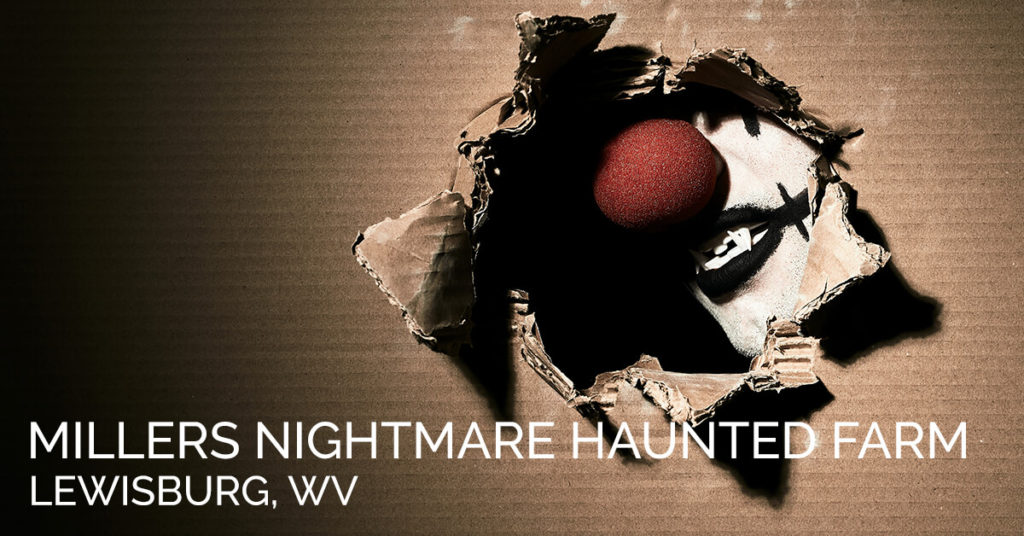 Millers Nightmare Haunted Farm
Even though this attraction is over four-and-a-half hours from Wheeling in Lewisburg, WV, the Millers Nightmare Haunted Farm "made the cut" because of its EXTENSIVE number of spooky features—all in one place! This location features a Nightmare Parade that begins at dusk, homemade fair foods, nightly bonfires, and Halloween games, creating the perfect Halloween atmosphere. The location itself features a basement, where attendees explore the site of multiple "killings and executions" and allows guests to "explore dark corridors", seemingly ensuring that "good scare". And, as if that isn't enough to influence Halloween enthusiasts to travel there, the location was also historically the site of occult oddities and other happenings. I don't know about you, but I'm "sold"!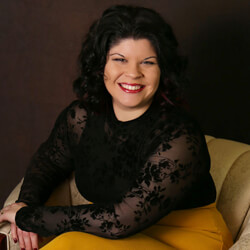 ABOUT W.B.
W.B. (Whitney) Healy is a full-time high school English teacher and part-time freelance writer in Moundsville, West Virginia. Her favorite stories to write include a celebration of all things local, with content like exploring small businesses, interviews with local artists, showcases of live theatre, and reviews of local restaurants.
Whitney enjoys reading, writing, the outdoors, baking, art museums, black cats, and live music. In the past, Whitney directed the spoken word group "The Prosers" at Towngate Theatre in Wheeling, WV.
She is currently writing an epic fantasy novel based on Norse Mythology and is hoping to finish this work by 2022 (and maybe even publish it!).
Instagram: @wbhealy.writer
Want your idea to be featured by this writer? Contact W.B.Healy via email at wb.healy@yahoo.com or on Instagram @wbhealy.writer