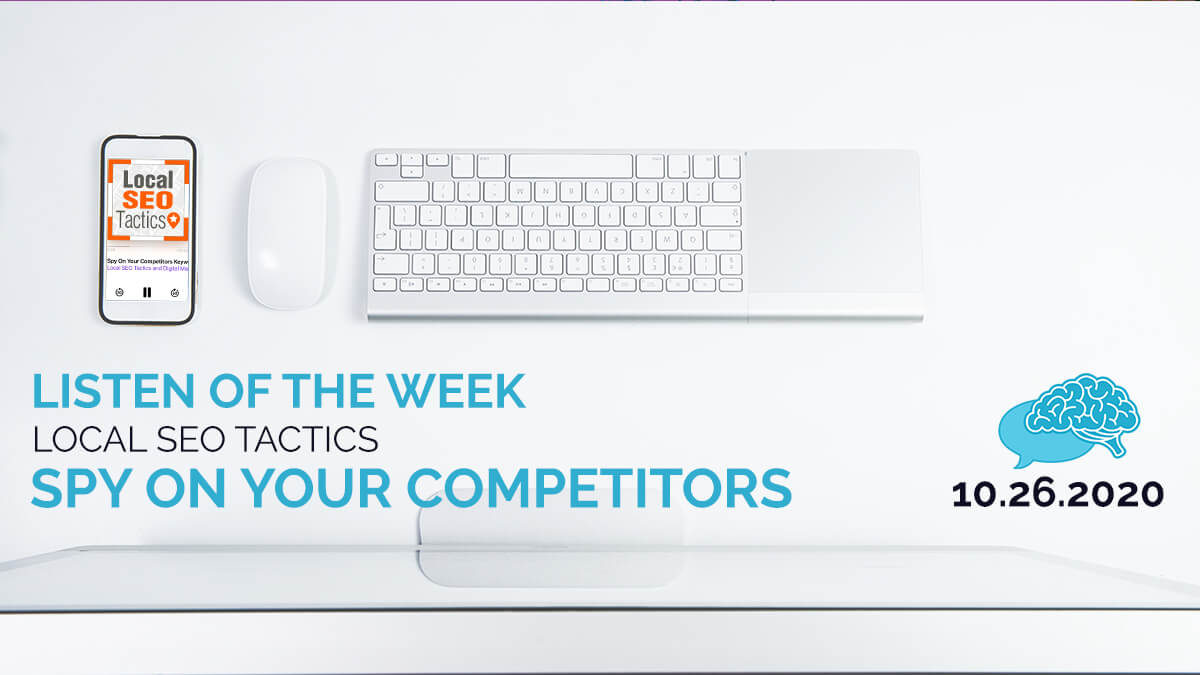 Spy On Your Competitors
Even if a business says they don't pay attention to what their competition is doing, they are lying.
They might not make this a huge focus, but when they drive down the road and see a competitors Lamar Billboard or hear an ad on the local radio station, they take mental note.
It's wise to focus on your own business first, but it's also naive to ignore what your competition is doing.
And if you are ultra-competitive, maybe you might even spy on your adversaries.
Who Are Your Competitors?
During my initial web design meeting, I tend to ask: Who are your competitors? The answers are always the most prominently known brands.
Attorneys say GKT and Bordas and Bordas.
Car Dealers say Straub or Bob Robinson.
Real Estate Agents say Harvey Goodman or Sulek and Dutton.
Why? All of these brands dominate the airwaves with commercials. They buy billboards lining the major highways.
But they don't always own the internet.
Sometimes your biggest competitor is no where near your location.
SERP Competitors
The SERP (Search Engine Results Page) can gather all types of intruders. Even though you might be looking for a Local SEO Company, you will get results from Atlanta and other big city companies.
If you have a service area business, you better watch out for predators coming into the Wheeling-Steubenville DMA to take over.
But of course – this doesn't necessarily apply to stores with physical locations.
The SERP within a SERP
You go to Google to get a list of results. Sadly, they often give you a list as the top page on the results.
Best SEO Companies Near Me – on Yelp
The 10 Best SEO Services Near Me – on Thumbtack
Top SEO Companies in West Virginia – on Clutch
Thank you Google for giving me another list I have to click on. Yet, this is how it works.
You work super hard to try and get to the first page on Google just to find out the top results take them to Yelp, where you need to work super hard to get to their top page (results).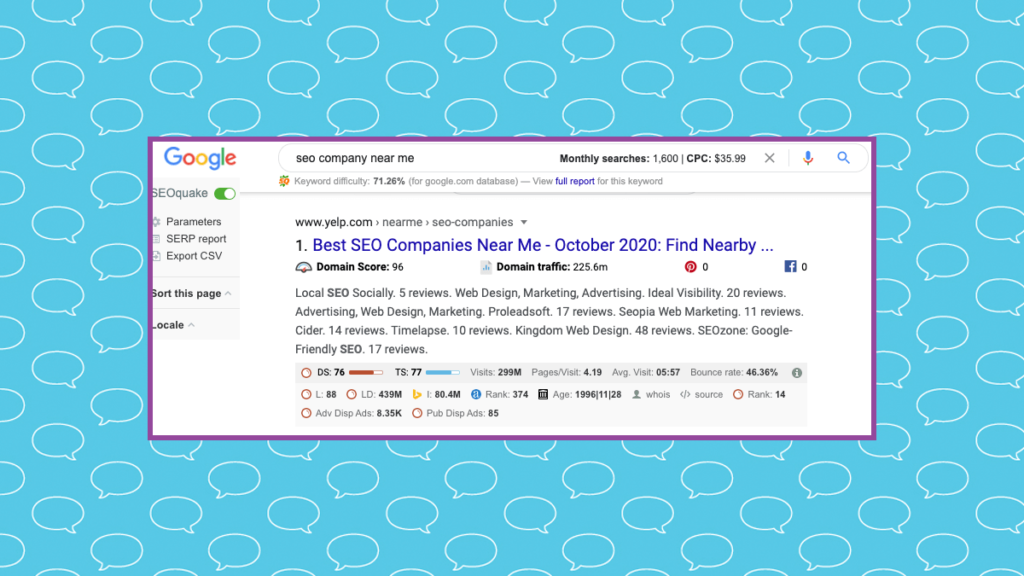 This happens for nearly every industry.
Attorneys battle with Justia, Lawyers.com, and FindLaw.com.
Autotrader forces most dealers to focus their efforts on their platform.
Real Estate agents must focus on Zillow.
Sometimes your competition to getting to that #1 Spot on Google is actually an aggregate website.
The Local Map Pack
If you are a local business, you need to get with GMB (Google My Business). Your websites main competition might actually be Google's Business Directory.
You might find yourself on page 3 because of all of the aggregator websites and out-of-town invaders, but you can be highly successful if you own the local map result. Google has been accused of stealing website clicks for quite some time now. If you want a phone number or an address, you can get it without ever entering the businesses website. This often comes from the Google My Business listing.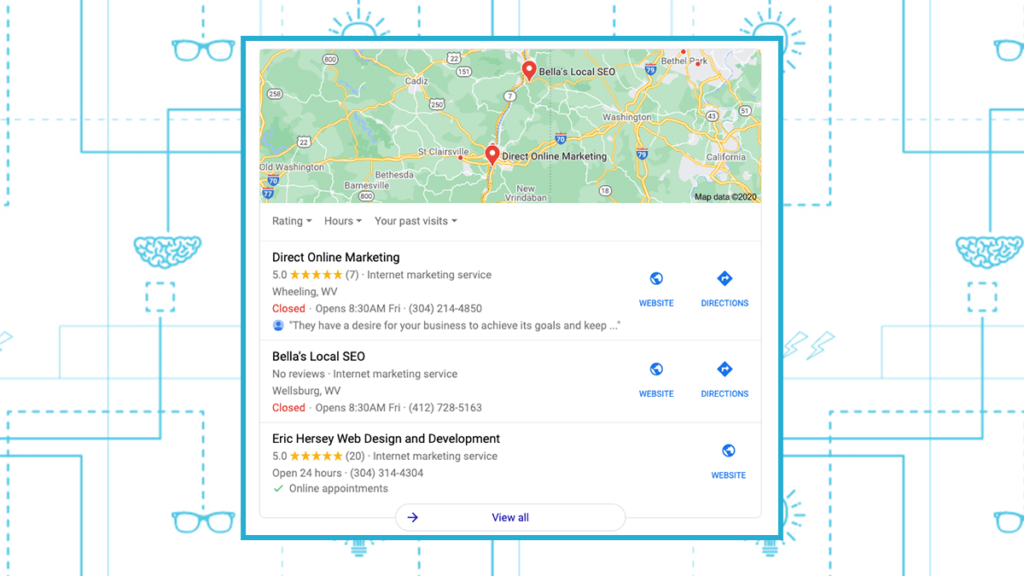 These results have almost everything to do with how you optimized your profile – not your website. The example above shows Direct Online Marketing as the #1 result. My guess is they have their primary service listed as Internet Marketing Service. This will give them a bump over me (who lists the primary service as Web Designer).
Bella SEO uses a great hack – putting the target keyword in your listings title. It's all legal with her since it's her actual business name. Even though she doesn't have any reviews, being listed as a Internet Marketing Service and SEO in the business name puts her in the second spot.
And then there is Eric Hersey Web Design and Development. Thankfully I worked on those reviews and have the words SEO sprinkled all over my website. Even my service area business (no address listed) can compete with the brick and mortar locations.
You need to be in the top three to play ball and get noticed.
First Page Real Estate
We didn't even touch on those ads at the top and bottom of the page. By now you should know that you can buy your way on the first page of Google. I like to focus on organic search. In all truthfulness, you need to own as much real estate on that first page as possible.
Run a PPC campaign and have your name sponsored at the top.
Work your butt off optimizing your GMB and get on that Map.
Make sure your business has a great reputation and gets listed on Yelp and other third-party sites.
Do everything you can to organically rank with your website.
Imagine if your name is in all of these places.
I bet you get a click.
The Premise of Local SEO Tactics
Welcome back Local SEO Tactics. Jesse Dolan and Bob Brennan were covered months ago when I talked about Hosting and Website Speed. This is a favorite of mine. So much I recently gave them a review on Apple Podcasts and they gave me a shoutout at the end of the show.
Local SEO Tactics gives you great nuggets of information to help your business win the local ranks. You should subscribe.
Why Did I Pick a Podcast about "Spying on Competition"?
Once you identify who your real competitors are (not just the guys with the big advertising budgets), you should want to outrank them.
The top 3 Google search results get 75.1% of all clicks.
Odds are you can systematically find out what your competitors are doing and bump them out of that 75%. More clicks usually means more money in your pockets.
In this podcast, you will find out:
Who are your main competitors
Niches your competition is ignoring
What tools can you use to help spy on your competition
Keywords your competitors are targeting
Rather read? Here is Local SEO Tactics blog article from their episode.
The Podcast: "Spy on Your Competitors Keyword Strategy with Keyword Research Tools"
There is not a lot of fat on this one. Listen all the way through and pick up some new tips and tricks to track your competitors.