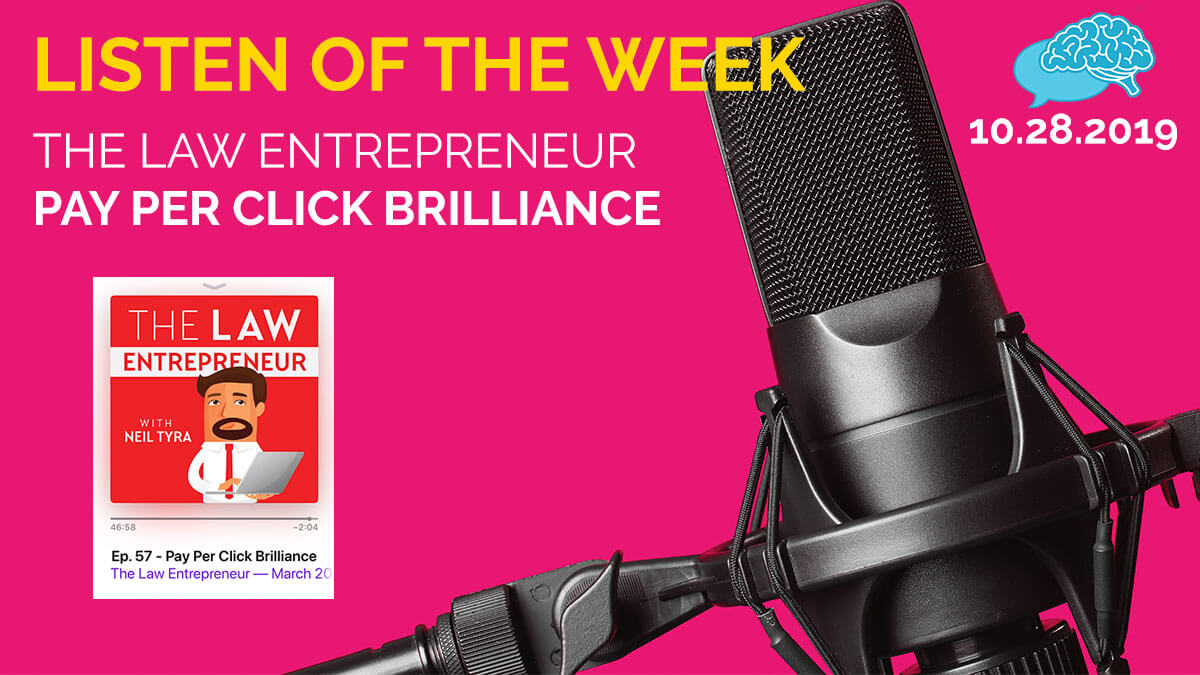 Attorney PPC
We are closing out the Focus of the Month: PPC and I am looking forward to finding new and interesting podcasts on Local SEO in November. The final podcast I found seemed relatively niche – but it isn't.
I have made several websites over the years for some law firms and attorneys. One of my earliest websites was for a personal injury attorney in Washington, PA. One of my first television advertising clients was a lawyer. Lawyers and law offices fascinate me.
When I did my Apple Podcast search for PPC, I stumbled upon The Law Entrepreneur. I have several attorney clients, so why not give it a listen?
The Premise of The Law Entrepreneur
To be 100% truthful, I didn't go back and listen to his backlog of podcasts. This podcast is intended for actual attorneys looking to increase their client list. Even though I work with attorneys, I do digital marketing and worry more about the online presence. Some of the discussions were a little too niche for me to get into. Example: Ep. 175 – Avoiding & Understanding Bar Counsel Investigations – with Megan Zavieh – yeah, a little too inside baseball for me.
The host, Neil Tyra, is an attorney (go-figure). Here is what he has to say about himself:
So, my name is Neil Tyra. I am an attorney in Montgomery County, Maryland just outside of Washington, DC. And this is The Law Entrepreneur website – where the law meets entrepreneurship. I hope to blog and podcast here about primarily the business of owning your own law firm – either as a solo practitioner or small firm owner – with an emphasis on starting your own practice. I'll focus on what they don't teach you in law school and illustrate it by discussing all of the mistakes I have made in my own firm – that alone will be a lot of content! Along the way I intend to interview successful solo practitioners about the mistakes that they have made and the lessons they have learned. In addition, we'll chat with some really bright and successful entrepreneurs, who aren't necessarily in the practice of law, about creating a successful business in the internet era.

The Law Entreprenur About Page
Why Did I Pick a Podcast about Attorney PPC?
This podcast is a bit misleading. It is not just for attorneys. Actually, I think it's not just for attorney PPC campaigns. Neil had a great conversation with Yan Roos. Yan was promoting his book "The Legal Marketing Fastlane". He discussed many topics, but I found these items most important:
Why Landing Pages should be used instead of the Homepage for Attorney PPC
When you should use an advertising agency vs. doing it yourself
What Negative Keywords can do to help out your Attorney PPC Campaign
I also found a nice little nugget when he discussed how much an agency should charge for running your PPC campaign. Although this is an estimation, he said that 15% of the spend is normal. Also, $500 minimum spend seems to be about right. So – if you are reading this and think those numbers are a bit wonky – call your ad agency.
The Podcast: The Law Entrepreneur
Simply put, you don't have to be an attorney to appreciate this podcast. You will get some good nuggets for your attorney PPC campaigns, but if you have very limited knowledge on PPC, SEO, or Google Ads – give it a listen. The first five-minutes are usually unrelated. Skip to the interview and you will be happy.