The Ohio Valley's Best Restaurant (Websites)
I was interviewed by WTRF News Channel 7's digital entertainment channel Love Ohio Valley in April 2020. Nick Nash, former radio personality and host of Split Screen, sent me an email asking a few basic questions. He is a true professional and we have had several conversations in the past. We didn't need to do much prep work to get ready for the live interview. I, however, knew that the general public in the Wheeling-Steubenville area would much rather talk food than websites.
We Love Food in the Ohio Valley
I've seen the data. Anything local on Facebook that deals with local restaurants kills. An interview with a pub owner in Wheeling would get 100x more social shares than if we streamed a new Star Wars film live. Residents of the valley support their local eateries. Look at the fan count on some of their Facebook pages.
So I offered to do a fun spin-off and talk about restaurants…and their websites. I would rank the top restaurants in the Ohio Valley based on their website.
Show Prep Work
I had three days to prep. I wouldn't be able to do a true website audit for each location – but I could easily get their domain authority (take a look at my Domain Authority blog for more clarity on this metric). I went through nearly 80 local restaurants and grabbed their DA score. This allowed me to make a list.
Since I was talking with Channel 7, why not a Top 7 List. I had a few seconds to talk about each on air, but now I have entire forum to discuss my findings.
Top 7 Ohio Valley Restaurant Websites (according to Domain Authority)
Let's countdown – because that's more dramatic.
Number 7. Avenue Eats (Wheeling, WV)
EDIT (11/01/2020) – Avenue Eats was destroyed by fire in 2020
Domain Authority: 26
Avenue Eats takes advantage of an industry-specific CMS to provide their users with a fast and friendly website. As the footer indicates, the site is powered by Flavor Plate – a website platform made just for restaurants. Utilizing these themes can really help eliminate all the unnecessary frills that come with template websites. This is a reason why their website was graded as a 96 (out of 100) on Google's PageSpeed Insights tool.
Not only does Avenue Eats have a great social following, but they also have the reviews. Trip Advisor has them listed as the #1 restaurant in Wheeling. With over 200 reviews on Trip Advisor, nearly 500 reviews on Google My Business, and 200+ reviews on Yelp, these social signals help boost their Domain Authority and likeliness to show up in search.
Domain Authority: 27
I can smell a WordPress site a mile away. Actually, I can smell the steak grilling from kitchen of Generations. I can spot a WordPress site when I click on the menu.
Much like all WordPress websites, they are dynamic and can look really good. The downfall sometimes comes in with speed and optimization. Generations Restaurant and Pub seem to have a good grasp on the speed and pass several tests. More importantly, they take advantage of plugins like Yoast to optimize the website for Search Engines. This might be the deciding factor why they rank one step ahead of Avenue Eats.
It should also be noted that they a large Facebook audience that frequents their website. Traffic to the site is a big indicator on if your website should rank.
Domain Authority: 28
Google likes to keep us guessing. Unfortunately, Froehlich's is an example that as much as we try to understand how search engines rank, we don't always have the answers. Not to be unkind, but there are some classic examples of what not to do.
The website is also powered by WordPress – but is using a theme from 2012. This is notable because Responsive Design wasn't as prevalent. When you view the website on a mobile device, you still need to pinch and zoom to navigate. This will end up penalizing the domain in the future if not corrected.
In the interim, the fact that this domain has been active for 12 years is helpful. The website is considered fresh – meaning that they are updating the content frequently enough to let Google and Bing know that the restaurant is not collecting dust.
Domain Authority: 28
If you have been following along, you see that WordPress is a popular platform for web designers. We see another pretty website for Dee Jay's using WordPress. Designed by Weirton Web Design Company Mobilize360, they made sure this website works on mobile devices.
Dee Jay's website gets the nod for a clean design, but gets hammered by having too much going on in the background. Site speed is less than ideal, but where they lack in speed they make up for in reviews and off-site SEO strategy.
With over 12,000 Facebook likes and a 4.9 (out of 5) review score, people like Dee Jay's and that is what's most important. When people leave reviews, tag Dee Jay's in posts, or check-in – this is a clear indication to search engines that this place should be ranked.
Domain Authority: 30
Later Alligator is a great example of who you know making an impact. Granted, I don't know the owners or their real life connections, but when you look at their link profile – they have been featured with some bigger website/publications. Being featured in Restaurant-based websites helps push their Domain Authority to the top.
Later Alligator is also using our friend WordPress as the backend system – but has a tighter grip on the speed. They have a clean, mobile-friendly site that is easy to navigate and informational. They could utilize some SEO friendly plugins to help jump a few spots.
Number 2. DiCarlo's Pizza (Multiple Locations)
Domain Authority: 31
It would have been a shame if DiCarlo's Pizza didn't make the list. It might be one of the first items you think of when you say "Ohio Valley Food". Thankfully, they managed to have a website with a high domain authority and qualified.
The fact that most people know of DiCarlo's helps. There are several prominent news sources and top blogs that have featured articles linking to DiCarlo's website. Paired with their 10+ locations, they generate enough website traffic telling Google that they are a big deal.
Their website is nothing special. It doesn't appear to be our beloved WordPress, but there is some type of CMS at play. It isn't optimized for speed, but that doesn't matter when you are a former Ohio Valley resident traveling back home, you want your DiCarlo's Pizza and you will wait for that website to load.
Number 1. Undos (Multiple Locations)
Domain Authority: 31
This was a tough decision. Notice that DiCarlo's Pizza and Undo's Family Restaurant have the exact same score. I really had to find reasons to choose one over the other.
Undo's was the oldest domain I found (1997). When most of us were still using dial-up on AOL, they bought undos.com. During that time, they managed to have over 250 domains link to their website. Each one of these websites pass along a little weight and recommendation towards the Undo's brand.
Undo's also has nearly 13k Facebook followers. When you have that kind of audience, posting an image of their food or a weekly special generates lots of likes and website traffic.
Even though the website has some issues (no-SSL certificate), they managed to keep it fresh and managed to be faster than the competition (in this case, DiCarlo's Pizza). Oh, did I mention that Cheesy Bread!
Was There a Perfect Restaurant Website?
I did a deep dive on seven of the restaurants. Truthfully, it wasn't as deep as I go for actual client website audits – but it was telling enough. I found some holes with every website listed. Some were going to be easy fixes (SSL certificates) and others would require complete website rebuilds (non-mobile friendly themes). Some of the websites were doing a great job digital marketing and others were sticking around the top based on their longevity.
Most of the websites I reviewed were in the mid-teens to low-twenties for their domain authority score. I could easily see some movement in the ranks if a few restaurants played their cards right.
What About the Food?
Sure, I was talking about a lot of technical nonsense. To be truthful, this wasn't even a list of my favorite websites or best technical websites. This was a list of websites based on their likeliness to rank on search engines. There are some very good websites and also a few that I wouldn't be proud of. It just shows that there are many different techniques to win search.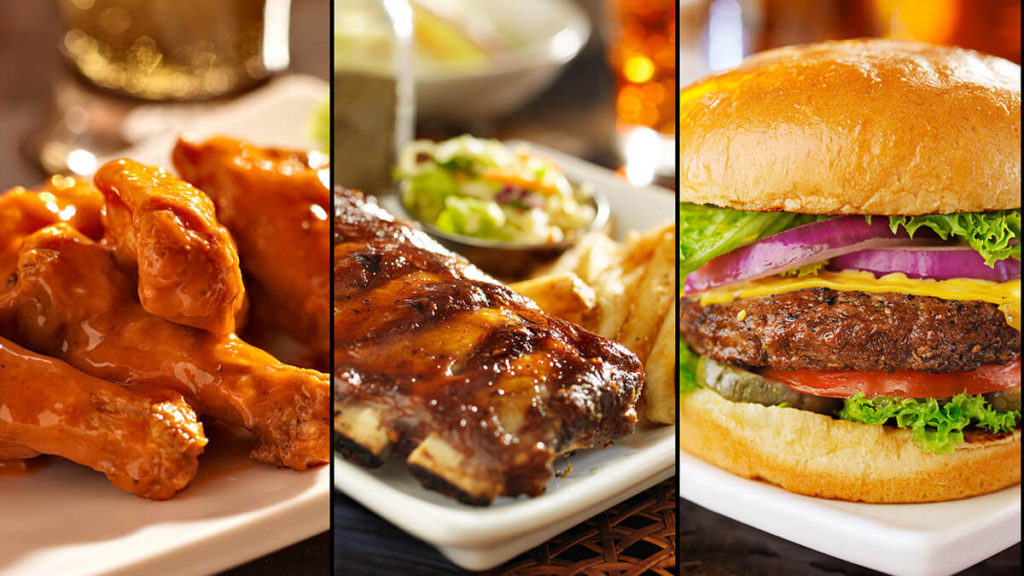 I can proudly say that I've had meals at every one of the listed locations. Some were better than others, but I don't remember leaving any of the restaurants angry or still hungry. I say give them all a try.
I Want More Restaurant Lists
The same day I filmed for LoveOV, I talked with my brother on his podcast. We had a lot more time and actually did the Top 20 Ohio Valley Restaurants.
Give it a listen.
I Need More Restaurant Lists
Yes, I have an entire list. If the local restaurant had a website (no, Facebook doesn't count), I ranked it.
Where does your favorite establishment rank?
Sign up and have the entire list sent to your email.
Tags In