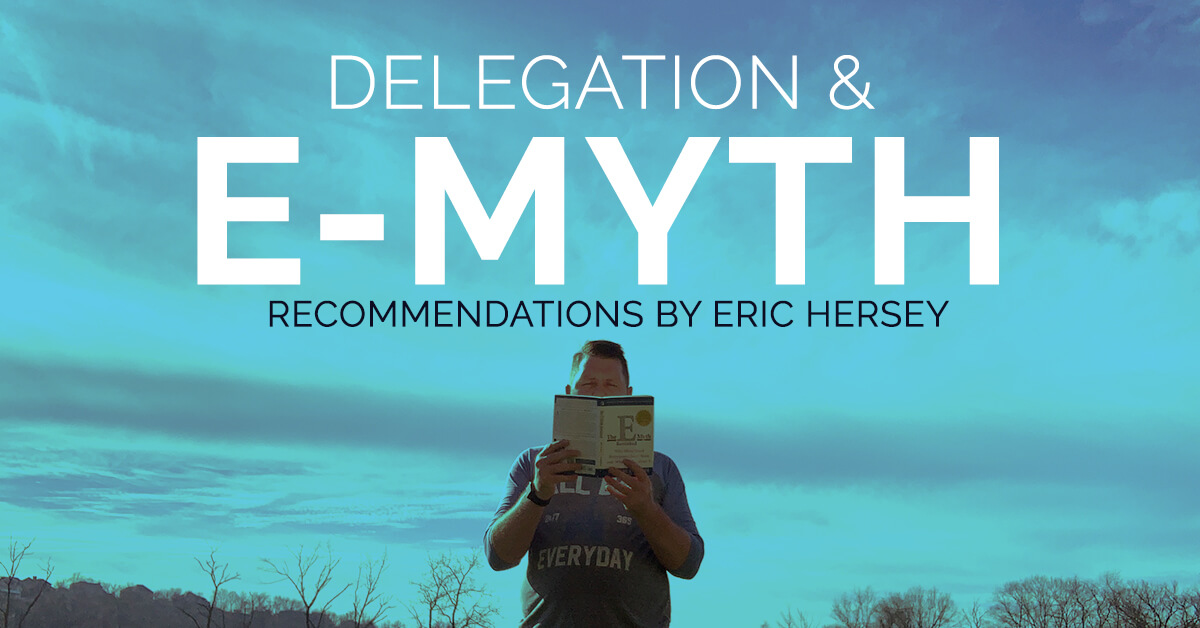 Delegation and E-Myth
I go by the Rule of Three.
For comedians or writers, you might know this as the principle that a trio of events or characters is more humorous, satisfying, or effective than other numbers.
Something funny happens once. Chuckle.
The same thing happens again. Maybe a smile.
The third time something happens. Literal LOL funny.
You know it when you see it. The Rule of Three is common and effective.
I use this same method when it comes to recommendations.
If three separate individuals recommend something to me (movie, TV show, book, podcast, etc…), I will try it.
This is how I stumbled upon the book The E-Myth Revisited.
The Entrepreneur Myth
I kept hearing podcasts reference E-Myth. These weren't business podcasts, but everyday SEO and digital marketing podcasts. What they heck were they talking about? They were giving a ton of credit to a philosophy change after reading this E-Myth book. I wrote it down in my notes and left it alone for another month.
Again. A random podcast went on for minutes talking about this book. I decided to pull out my phone and order it on Amazon. Two-Days later, it arrived. I sat in on my bookshelf and didn't think of it again.
Until…another podcast started talking about the book. I guess I better actually read it, right?
A week later, I finished the book and understood what the fuss was all about.
What is the E-Myth?
Firstly, the E-Myth is best known as a book by Michael E. Gerber. The version I ordered from Amazon was 260+ pages and was the third edition. From what I understand, this book has been around for a while and updated to fit the times.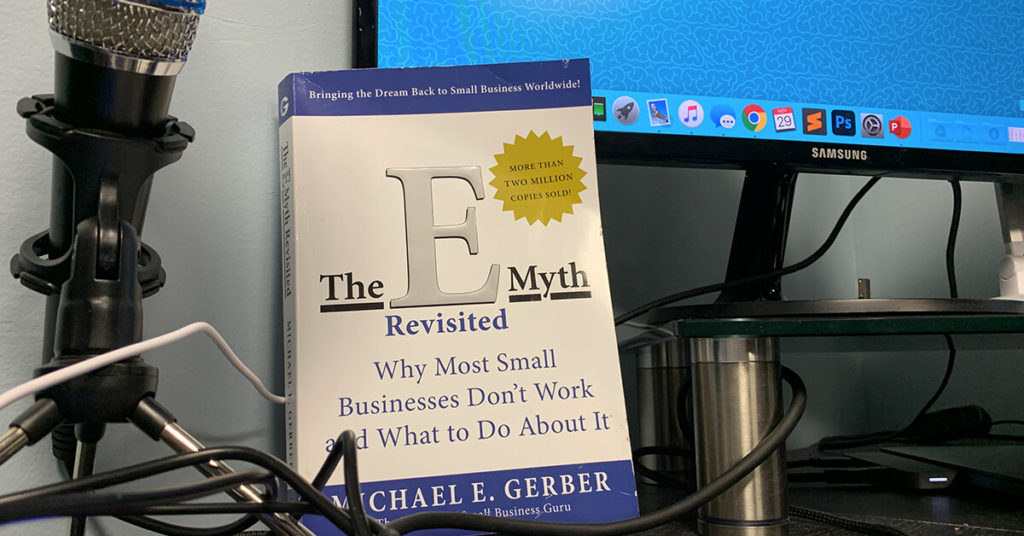 The actual E-Myth, or Entrepreneur Myth, states that most successful businesses are created by those with technical or tangible skills. These skilled individuals create successful businesses based on their ability to deliver results and don't have to know anything about running an actual business.
This, of course, is the myth.
In fact, Michael E. Gerber goes on about how the skilled workers (or technicians) are not the entrepreneurs.
Why Is the E-Myth Book So Impactful?
Obviously, I'm not going to summarize 260 pages in a short blog, but I can tell you why these SEO's, Digital Marketers, and small agencies were raving.
Most of us in the digital space started off with our technical skills. We are in business because we used our skills to develop a product that others wanted. I started with graphic design and small web projects. People wanted flyers or cards. Soon they were asking if I could help with social media or digital ads. They told their friends and I started getting regular clients. Instead of just making ads and graphics, I had to learn how to make invoices, pay for freelance help, and create steady income to pay for other overhead. I was running a business – by accident.
Most of these technical workers have the same "problem".
Process
As I was reading Michael's book, I realized that a lot of these principles came naturally to me. I love structure and I love order.
One of the first action items I put in place when I created my LLC was to create a Website Development Process. This wasn't just a simple organized list, but an actual table of contents that read like a detailed business plan. I made it for myself, so I could consistently check off items to make sure every website was treated the same.
Who would have known that I was doing exactly what The E-Myth book suggested.
He uses several examples, but successful businesses have plans, procedures, and are consistent. In order to grow, you need to train employees and staff members to do things efficiently and consistently. Having a process or a plan makes a world of difference.
Delegation
The entire goal of the book is to move out of your way and become an entrepreneur. Many say to work on your business, not in your business. This is an extremely difficult task without a plan, a procedure, or the right individuals.
Over the years, I've made some great connections with freelance graphic designers, writers, and videographers. I work with some great advertising agencies to help market and promote my web clients. I've been burnt by some awful agencies and freelancers and I've also found a few gems.
I learned that I can't grow to the level I want to without help. But I also understand that if I become the "Glass Office Agency", I lose my unique selling proposition.
I'm more skilled than your out-of-school web designer.
I'm far less expensive than your 20-person digital agency.
I offer the same services as an advertising agency, except you don't have to pay for overhead (we freelance and outsource the help you need).
I've made connections with successful businesses, agencies, and design companies throughout the Ohio Valley so I can delegate and be the point person.
In order to grow, I have to be okay with delegating work (and shifting some money) to make sure my clients can get the services they need.
Media Buys and Advertising Agencies
Since I don't actually buy media for my clients, I don't benefit from that lovely 15% advertising agencies get on normal TV, Radio, and Digital buys. I do, on the other hand, have the experience to give advice and also work with several ad agencies in Wheeling and Steubenville.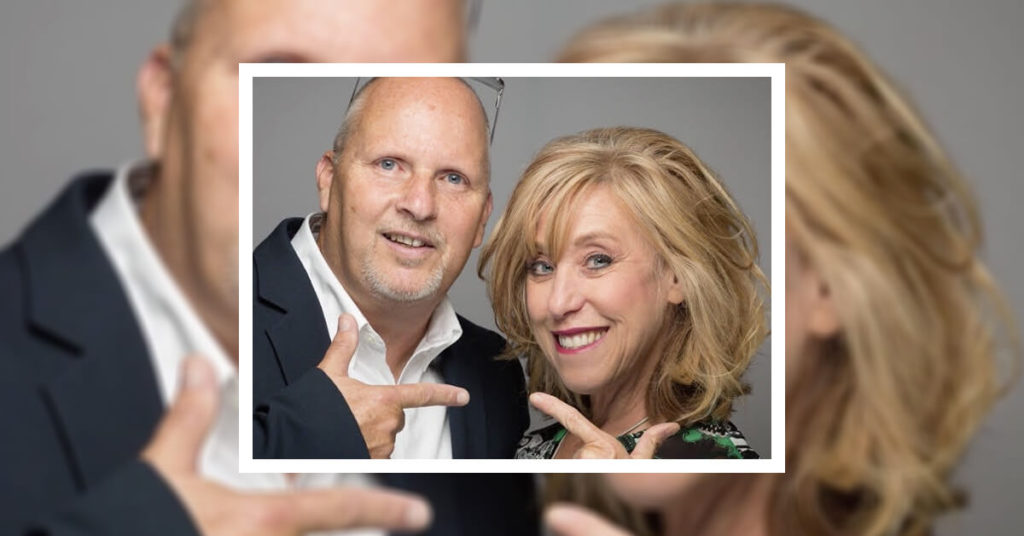 This makes it really easy for me to pick up the phone and talk to the point of contact and let my client do their job. This is just part of working with Eric Hersey Web Design – you get access to my advertising friends.
Graphic Design and Printing
I'm a graphic designer. I've been a graphic designer longer than I've been a web designer. But…I'm not your best graphic designer. I have over 20 freelance graphic design friends that probably can work circles around me. I love taking on graphic projects but I normally farm these out to my trustworthy friends.
By doing so, I can find the skilled designer that meets your budget and meets your need. You save time and money by having the best person complete the job.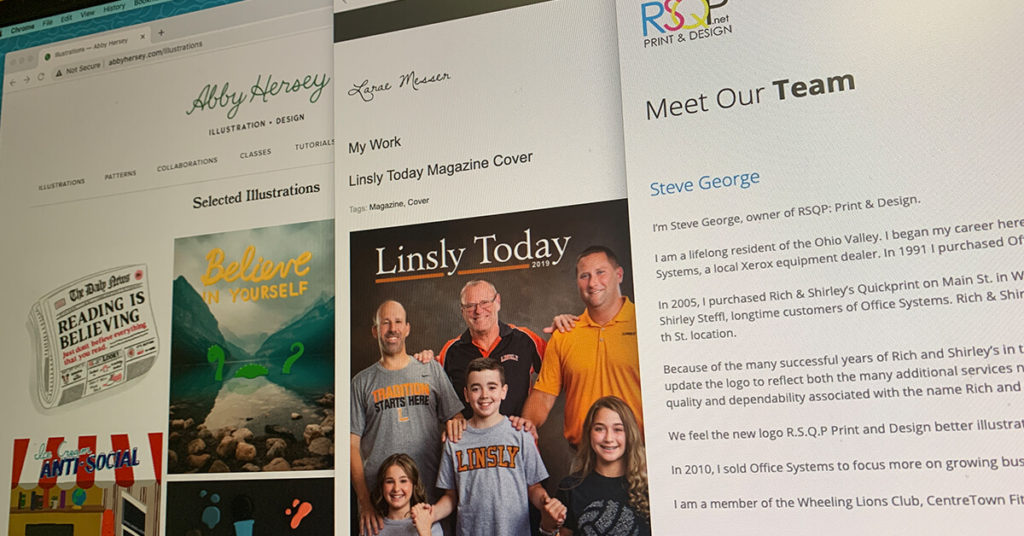 The same can be said about printing. I have friends at several local printing companies and others from across the US.
Video Production and Writing
I've written my fair share of commercials and screenplays, but that doesn't mean it's the best use of my time. I've learned that delegating and hiring freelance companies gives the client a far better experience than me trying to cram it all in with their website proposal.
There are very talented videographers in the Ohio Valley. Most of them do it for fun and aren't publicly available. Thankfully I found them through various projects and can get them at a great price.
Eric Hersey Web Design and Development Will Grow in 2021
Thanks to The E-Myth Revisited, I made it my goal to step out from doing all of the work and focus on the business. When I work with clients, they get my expertise on SEO, Web Design, User Experience, Digital Marketing, and so much more. Most of the time they don't care if I'm the actual person clicking the buttons or dragging and dropping.
They like my system and process. I keep them informed. I'm transparent. Most importantly, I do what I say I'm going to do.
I've found more help, created better systems, and look forward to helping out more business owners in 2021.
If I'm going to live by one of my mantras (Let's Make a Better Web for the Ohio Valley), I need to be able to work on more websites. By delegating and creating a process, this won't be an issue.
The Podcast: "The Man, The E-Myth, The Legend with Michael E. Gerber"
There were plenty of E-Myth book reviews and interviews with Michael E. Gerber. I decided to pick one that does a great job of explaining the process of E-Myth. There are lots of questions that deal with Mortgages, but it doesn't get too far into the weeds. Enjoy.
Tags In