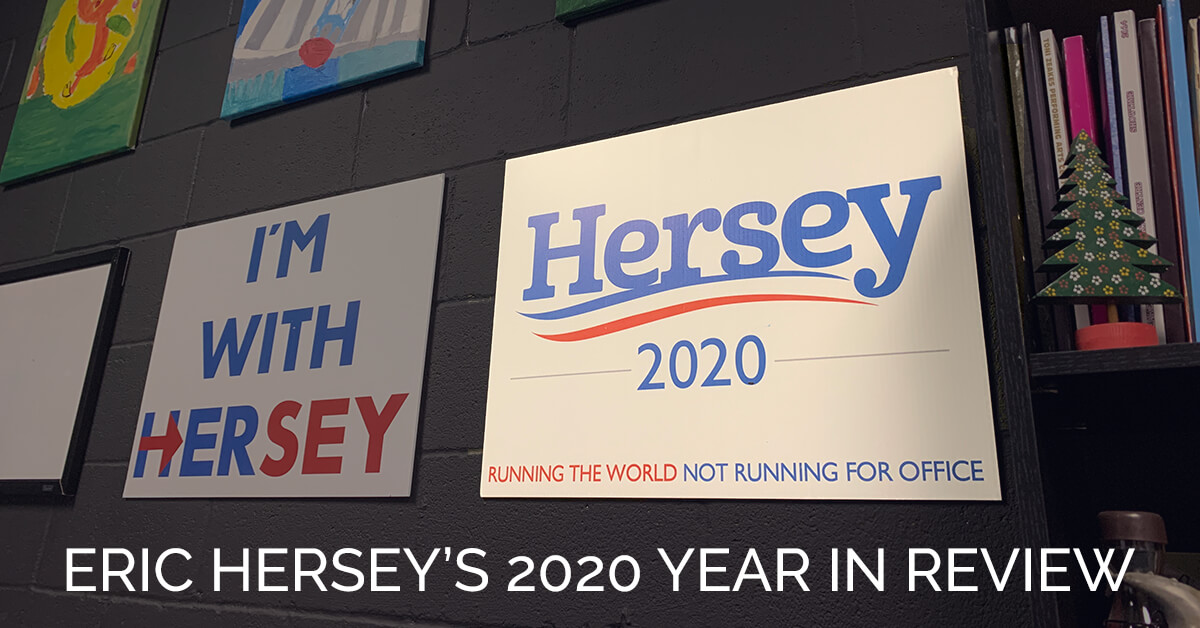 Hersey 2020
It started with a sign.
For real, a physical sign.
My brother Todd, from the TodCast PodCast, and I speak on a daily basis. Late in 2019 I made the mention that 2020 was going to be my year. Lauren and I both agreed we were going to have the best years ever. I told Todd because he and his wife, the talented Abby Hersey, should jump aboard.
Hersey 2020 – our best year ever.
Todd, Abby, and family visited during the holidays. I saw a car come down our driveway. Instead of coming directly into the house, I saw them standing in the yard. I peeked out and started laughing.
Abby went ahead and made us political yard signs.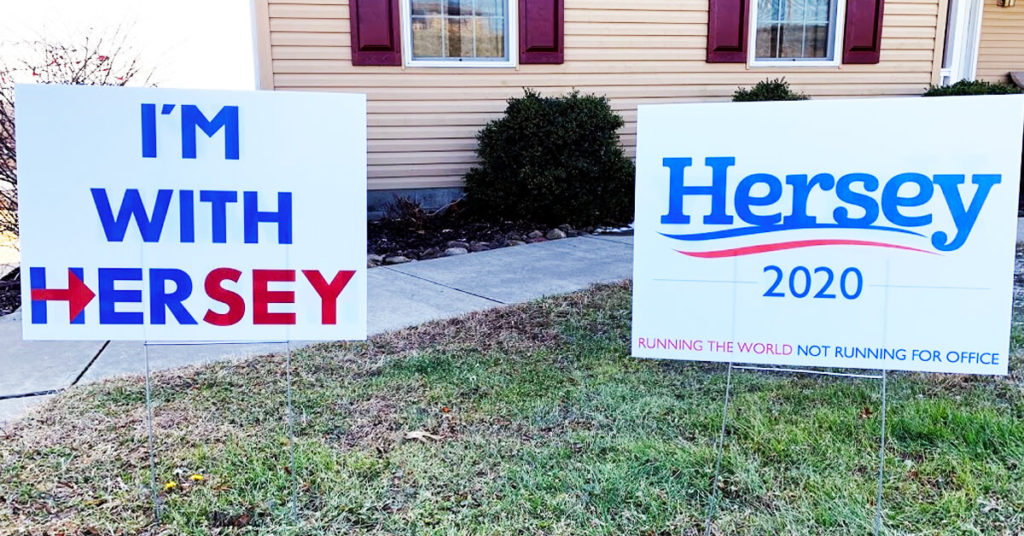 Hersey 2020. Running the World. Not Running for Office.
She printed my fate into existence.
COVID in Miami
The year was going great and the family traveled south for a spring break vacation. After a few days at Disney, the lovely and talented Lauren was invited to a digital marketing conference in Miami. She would attend meetings and I would take the kids to some local science centers and parks.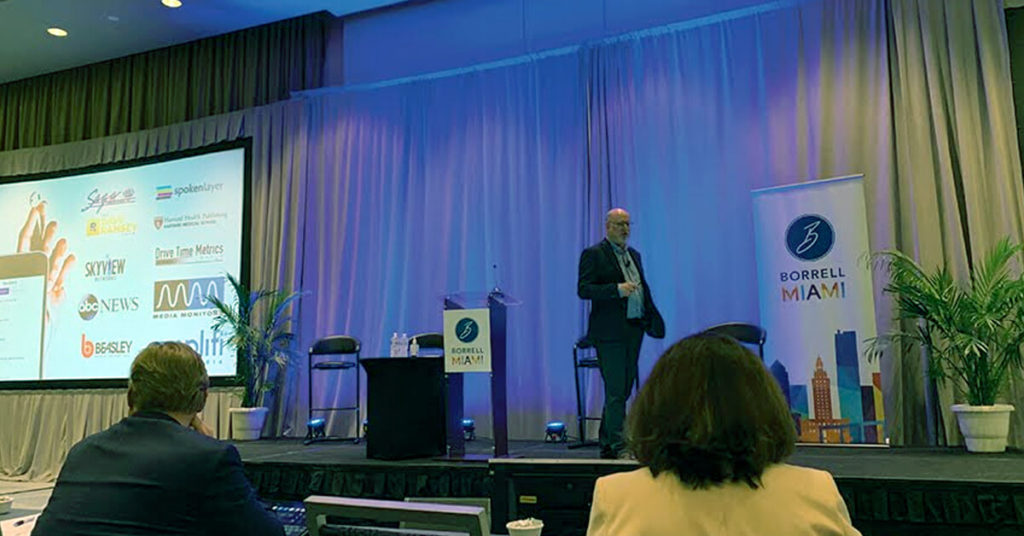 This was a nice break and vacation from a successful January and February. The first quarter of 2020 was going well.
And then we heard about the virus that would take over 2020.
COVID 2020 was the new sign.
We made it back from Florida and the country shut down. As a small business owner, how would the economy affect my business? Was my business (and my family) going to take a huge financial blow?
How could I worry about setting record breaking years when I wasn't sure if I was even going to hit my bare minimums?
Take Control
I'm a realist. I'm never overly optimistic or pessimistic. I see things for what they are.
I had two choices:
Accept that COVID was going to take over and stunt my growth
Find possible loopholes and make sure I could take advantage of the situation
Granted, I'm not talking about exploiting COVID in a scammy sense. I knew that I was equipped for success in this "all digital" world. I could take my knowledge and skills to help others get out of this rut and they would remember me for the future.
It was a win-win.
With everyone locked down and talking about Netflix, I cultivated my digital strategy for our new COVID world.
Skipping to the End – December 31, 2020
It was New Years Eve and the family and I were on year three of our NYE tradition – painting Disney pictures on poster canvas. Once dry, these pictures would be placed on my newly painted office walls. I already hung last year's (and the previous year's) paintings. Right next to these paintings I have the Hersey 2020 yard sign.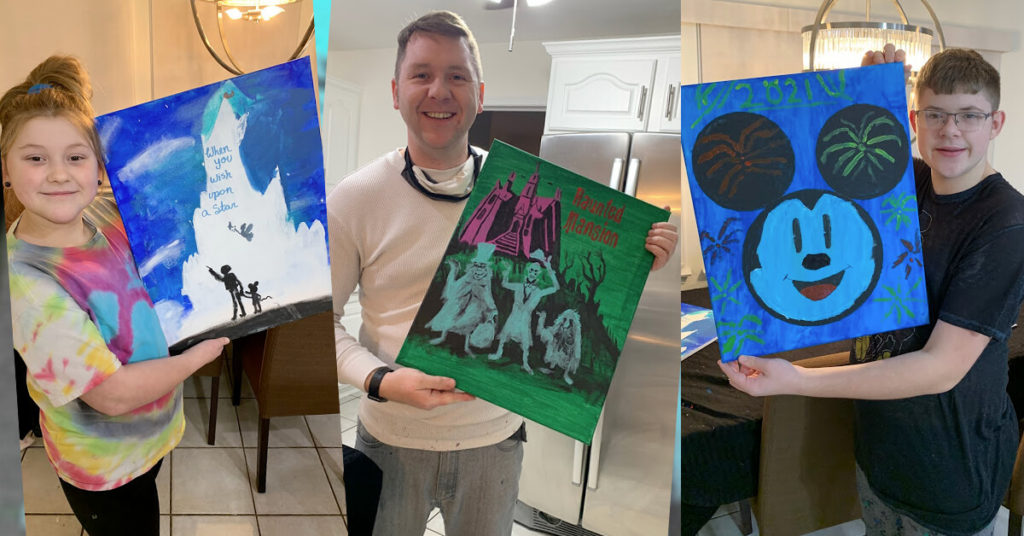 In fact, Hersey 2020 was a thing. The decision to push forward, regardless of the challenges put in front of me, allowed me to look at this sign as a positive. Instead of being the worst year of my career, I turned it into the best year for my business.
How did I do this? I'm glad you asked. Let's breakdown some pivotal moments and do a year-in-review for Eric Hersey Web Design and Development (aka Eric Hersey's Life).
Year In Review: 2020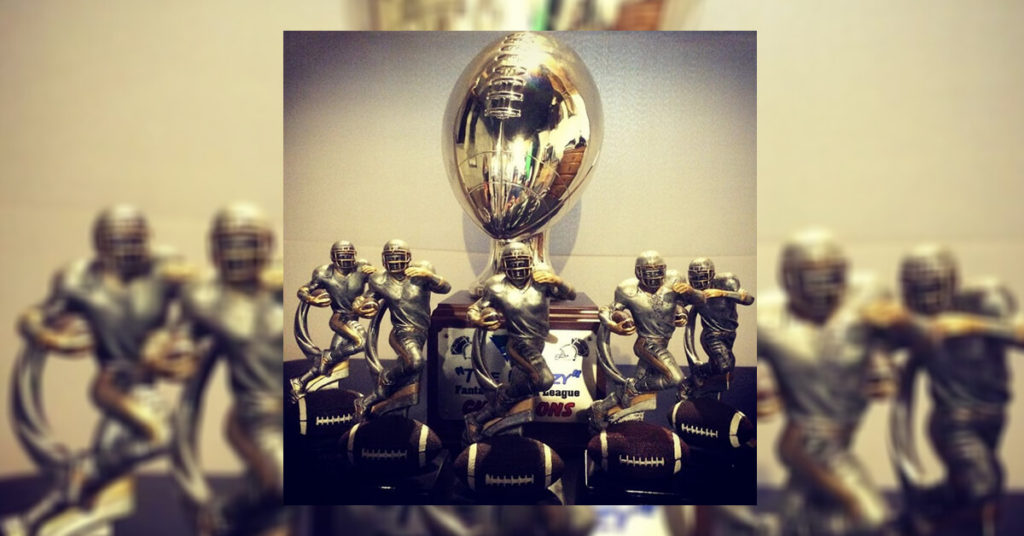 Fantasy Football
Let's start with one of my favorite past-times and hobbies – fantasy football. As evidence by my long-running football league (Real Fantasy Football League), I've been playing since 2004. I've never taken a year off and usually play in 3 to 5 leagues.
How many fantasy football championships did Eric Hersey win in 2020?
Zero.
Crazy to think I didn't win a single championship. I didn't make any Super Bowls. My teams didn't even qualify for playoffs. Truth be told, I didn't win a single game.
How many fantasy football leagues did Eric Hersey participate in 2020?
Zero.
Yes, I took the year off. Partner-in-crime and co-commissioner Justin Benline and I decided to take the year off. With COVID and the some turmoil from the previous season, why add extra stress this year? Instead of being glued to a TV on Sundays, I focused on new hobbies and a few new website projects.
Websites and Blogs
For at least 17 weeks, I gained eight hours on Sunday to devote to other activities. One of those activities was blogging. Not only did I blog for EricHersey.com, I devoted more time to design and develop websites for businesses in Wheeling, Steubenville, St. Clairsville, Weirton, and Moundsville (plus a whole bunch of other cities).
How many websites did Eric Hersey launch for clients in 2020?
19.
For a one man band, almost two new websites launched per month was great for me. Websites take time, effort, and collaboration. Thankfully I kept busy and my friends kept referring.
How many pending website projects were open at the end of 2020?
11.
Even during a pandemic, I was working with successful businesses and brands that wanted to update their performance. I've partnered with some successful freelance writers, graphic designers, and web designers so I can keep up the pace.
How many new blogs did Eric Hersey write and publish on EricHersey.com during 2020?
71.
One reason I was able to acquire so many websites is because of content marketing. I made sure to sharpen my skills each week by covering a new topic or tactic. By writing and sharing this information, residents of the Ohio Valley trusted my expertise and entrusted me with their business.
How many new users visited EricHersey.com during 2020?
1,860
Website visitors and totals can be subjective. If you are an established business and been marketing for years, you can hit this number in a month or a day. But, I officially didn't launch my brand until late-summer 2019. There were many days that I would see goose eggs for total visitors during the day. I'm happy to continually grow month-over-month.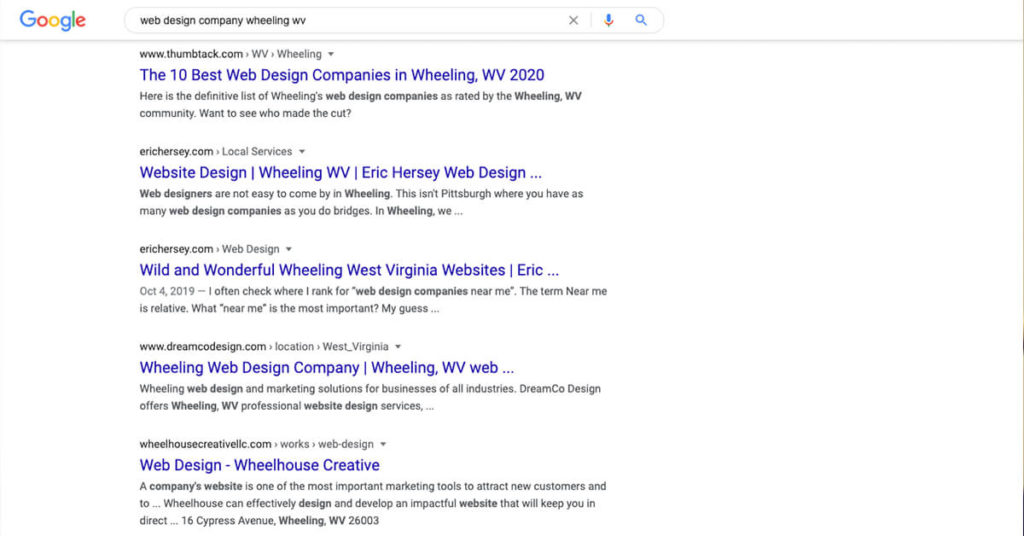 Where does Eric Hersey Web Design Rank when you type "Web Design Company Wheeling WV"?
2
I would love that #1 spot and I have a goal for 2021 – but I'm not complaining about being #2. The top spot (at the time of writing) is Thumbtack.com, the Yelp for Freelancers. These websites are always a hindrance for many industries. Law Firms have Attorneys.com and Realtors have Realtor.com. Web Designers have Thumbtack.
Hobbies, Media, and Social
If I gave up a major hobby (fantasy football), I certainly wasn't going to give up all hobbies. I continued watching AEW, a pro wrestling company, and brought along my son and daughter to the Wednesday night parties. That wasn't the only hobby I continued in 2020.
How many episodes of the TodCast PodCast did Eric record in 2020?
107
Nearly every weekday morning Eric gets on a Skype call with his brother Todd. The TodCast PodCast, now featuring Eric, released nearly 110 episodes in 2020. Eric appeared on all of them except three. Podcasts come out on Wednesdays and Saturdays, with the occasional bonus episode. This year the brothers also launched a new website and various social media channels.
Check out TodCastPodCast.com.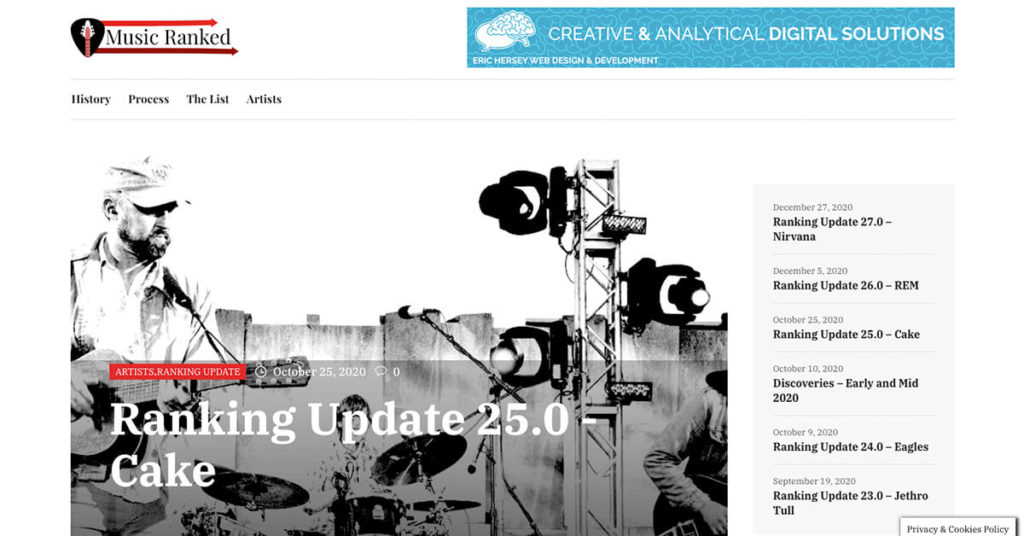 How many songs did Eric Hersey listen to and give a star ranking in 2020?
1726
I created a website called MusicRanked.com a few years ago as a test to learn the new WordPress 5.0. I continued to work on the site as a hobby and soon realized that people on the internet was actually visiting and reading. The premise of the site is fairly simple:
I listen to entire discographies of my favorite bands and musicians
As I listen, I rank each song from 1 to 5
We take the songs and combine to create an overall score for the band or artist
I rank the bands with an algorithm.
This happened throughout 2020 and won't end anytime soon. I'm very proud to be on the first page of Google when you search "Journey Albums Ranked".
Check out MusicRanked.com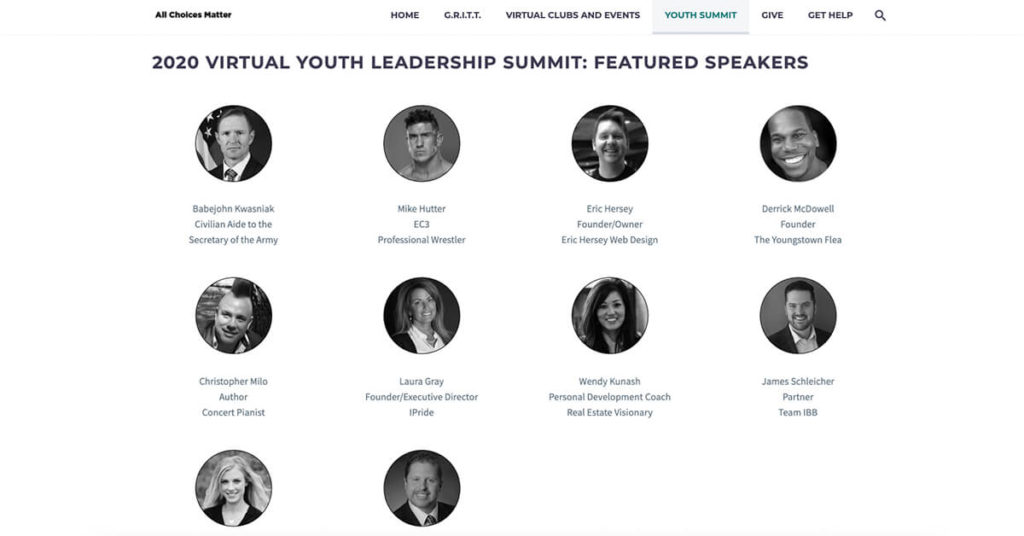 How many students did I present to, talking about "hobbies"?
800+
In my real first speaking gig (via Zoom), I was asked to talk to high school students about leadership. I wasn't sure what to expect, but was pleasantly surprised when there were over 800 individuals on the call. I was one of the featured speakers and by far the least famous. On the panel was EC3, former WWE and Impact pro wrestler. This was a fun experience. In my real first speaking gig (via Zoom), I was asked to talk to high school students about leadership. I wasn't sure what to expect, but was pleasantly surprised when there were over 800 individuals on the call. I was one of the featured speakers and by far the least famous. On the panel was EC3, former WWE and Impact pro wrestler. This was a fun experience.
I took the time to talk about how I developed my career based on my love for working on side projects and hobbies. This included backyard wrestling, fantasy football, contests at Wendy's, and podcasting. The feedback from the students and organizers was great and it was a great experience.
Other Big Things…
Let's just get to it.
How many pounds did Eric Hersey gain during 2020?
15
Yes, I wanted to stick to the standard gain for most people – 15 pounds. Let's hope I do better in 2021 and can kick these pounds (and my larger double chin).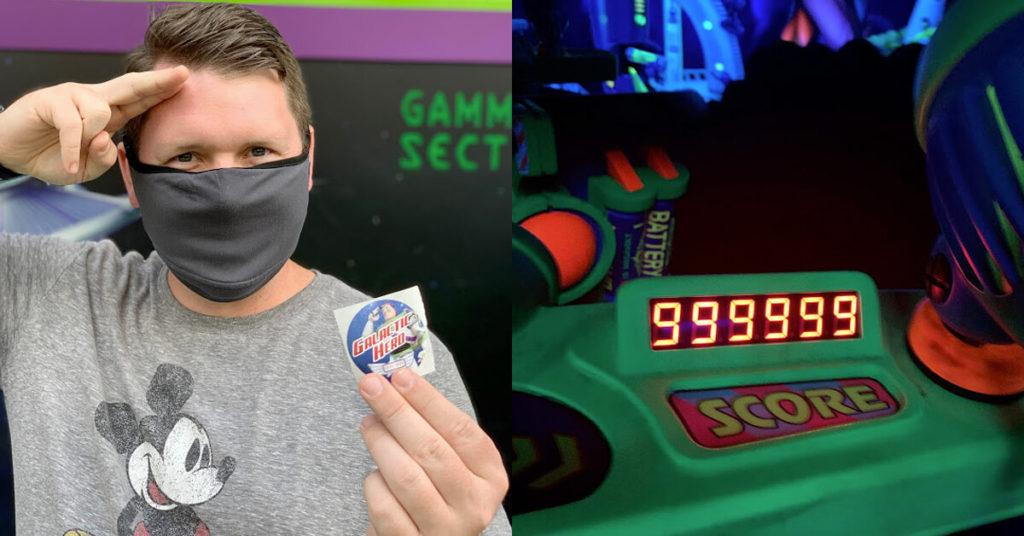 How many trips did Eric Hersey make to Walt Disney World in 2020?
2
Is this an all-time low? No, but it's a recent low. We came back from WDW right before the country shut down in March. We went back in November when numbers were fairly low, and we came back right during cold and flu season…and the country shut back down. Let's hope we can get things under control so I can make it a quarterly trip again.
What event made the biggest impact on Eric Hersey's 2020?
Moving to Wheeling, West Virginia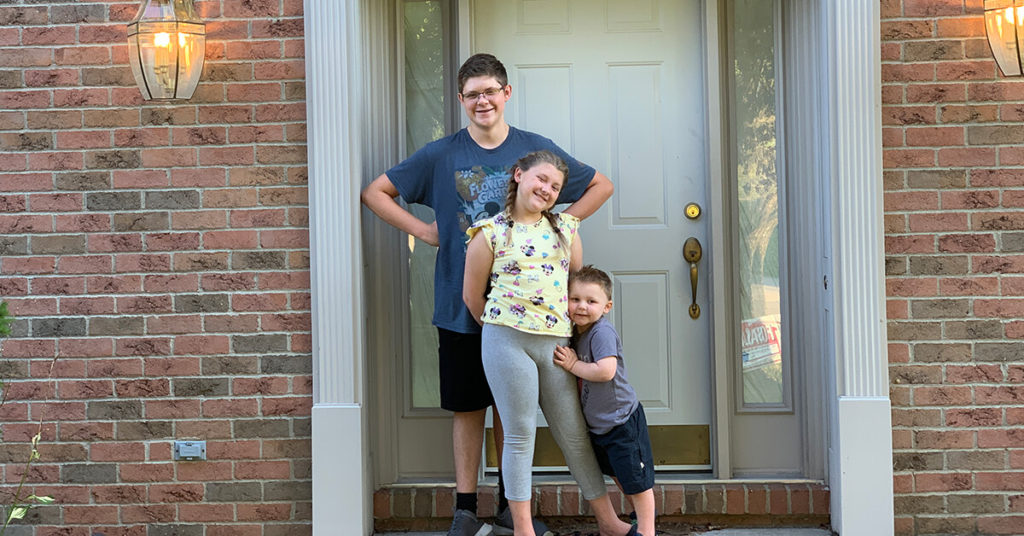 Yes, we would think this would be all about COVID but in fairness, moving to "the big city" was my biggest event. After living in the country (with slow internet) for over 10-years, moving in August was the healthy life decision our family needed. No longer do I have to ban my son from playing Fortnite while I'm working. I also don't have to spend hours in a car driving to and from school. We can even have groceries and food delivered!
This (big) move helped increase my efficiency and way of life far more than the pandemic and COVID slowed it down. It wasn't an easy choice, but we took control and made an decision.
What About 2021?
Goals are important. I have personal goals, professional goals, and goals for my side projects. Some need ironed out and others are pretty clear. Here are a few items that I would love to accomplish in 2021:
More help and more freelancers – scaling my business requires trustworthy help.
Launch of dormant projects – Disney World blog and something Pro Wrestling related
Passive Income – affiliate links and display advertising
Market Share – own more keywords locally
Healthy – 2012 Eric didn't have that double-chin, let's get to that weight
Balance – I work from home but shouldn't always be working when home. I want to play Guitar Hero or Madden again.
I'm not asking for another sign. There is no doubt that Hersey 2020 was a success because we "wrote it" into existence. I want 2021 to be bigger.
Maybe we get a billboard.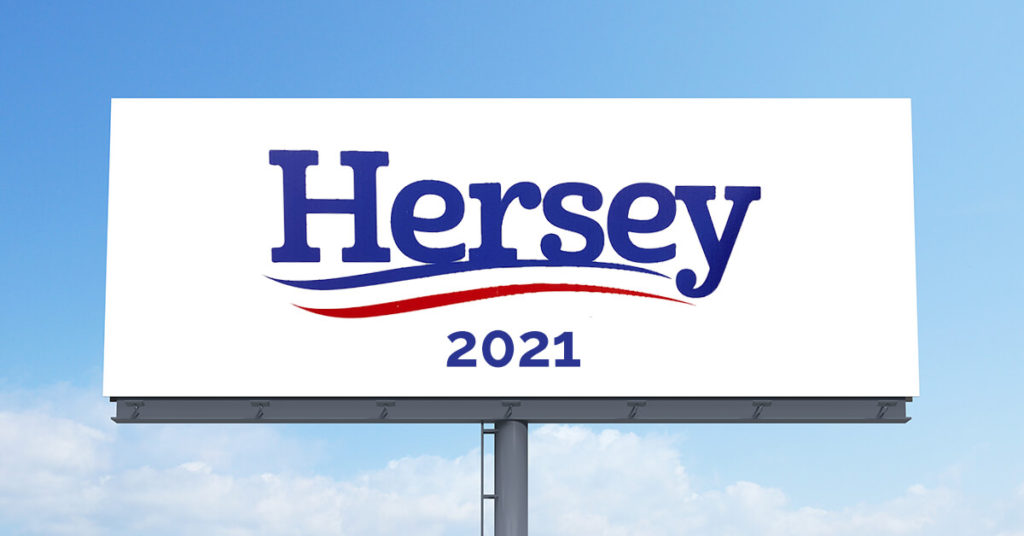 Thanks to everyone who has followed along, liked, shared, referred, listened, watched (and every other possible way to support). My business and my family appreciates you. Have a wonderful 2021. Make a sign and make it work.
Tags In