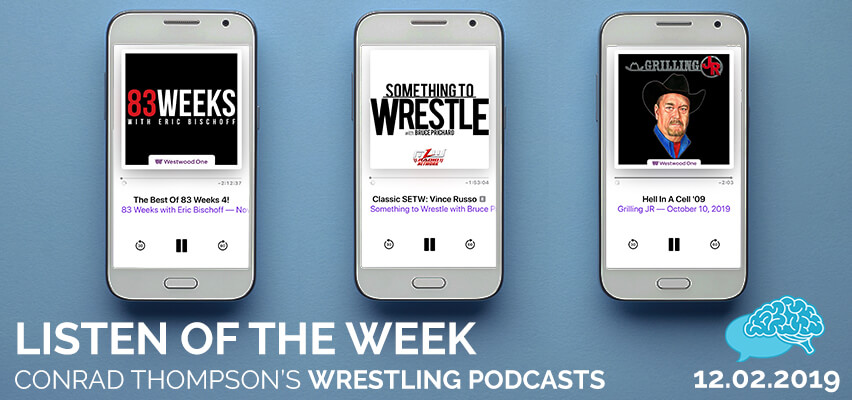 Conrad Thompson Podcasts
Several times a year I find myself in a van driving for hours (usually 17-hours). This, of course, is my family's vacation to Walt Disney World. In lieu of flying (to save a few bucks), we drive. The majority of the driving is done late at night and coffee can only get me so far. While everyone else is sleeping, I listen to the dialogue of my friends via podcasts.
I was getting recommendations from my good friend Justin Benline that I should listen to Something to Wrestle with Bruce Prichard. At this time, I was listening to several wrestling podcasts (even though I was not watching actual pro wrestling on TV). Chris Jericho and Steve Austin produced very entertaining podcasts and I figured I would give Bruce a try.
Something to Wrestle with Bruce Prichard had a backlog of hundreds of shows. Some of the shows were several hours long. Some of these podcasts would help take out some of this 17-hour drive.
Who is Bruce Prichard?
I was a hardcore (HARDCORE) wrestling fan in the late '90s. I was aware of most of the backstage hands in the WWE (WWF at the time) and I knew who Bruce Prichard was. Most fans probably knew him as Brother Love (from the '80s) but I was always aware that he had a hand in the whole operation. I thought he was just another guy. I wasn't aware that he was pretty much Vince McMahon's right-hand man for years.
Who is Conrad Thompson?
Conrad Thompson was not a name I was familiar with. I figured he was some professional host that was teamed up with Bruce for the podcast. Little did I know, I probably sampled Conrad before listening to Something to Wrestle.
Conrad Thompson hosted a very short-lived podcast with Ric Flair. Conrad had a previous relationship with Ric and was asked to help launch his podcast. This relationship with Ric also opened many doors to other wrestlers and personalities – leading him to Bruce Prichard.
Conrad explains he is just a fan. This is 100% true. He is passionate about the product and is a great voice for the wrestling fans out there. Conrad runs a very successful business in Alabama – and you can tell he has his stuff together. Although he is just a fan, he has become a very big part of professional wrestling over the years.
Conrad Thompson's Wrestling Podcasts: The Premise
What started out with just one podcast transformed into five. Although all of Conrad's podcasts deal with pro wrestling and usually a historic look back at events and personas in the business, they all have a unique take.
Bruce is full of knowledge and backstage insight. Conrad reviews specific news about a specific topic and Bruce tells the stories surrounding the events/wrestlers. Bruce and Conrad have a great rapport and most wrestling fans will find themselves chuckling multiple times per episode.
Timeframe and Topics Covered
Houston Wrestling, Mid '80s to Early '00s WWF/WWE, Little touch of TNA
Eric Bischoff was my mortal enemy in the Attitude Era. I was so loyal to the WWE that I refused to watch WCW (thinking that my single view would make an impact). Turns out that I missed a lot. Even crazier, I find myself agreeing with Eric's take on wrestling then and now.
This podcast reviews a lot of backstage marketing, numbers, and analytics. Eric Bischoff was running the show (not just helping with creative). Bischoff reviews why decisions were made for the business and not just for the story.
Timeframe and Topics Covered
Late AWA, WCW from '90s to early '00s, WWE in mid '00s
Jim Ross is the voice of wrestling. He is a legendary announcer and he was not shy to podcasting. He had a very successful podcast years ago and was rebranded with Conrad Thompson. Much like Bruce or Eric's podcast, Conrad talks with JR about events and wrestlers.
Jim Ross was the head of Talent Relations for years and the best part – he doesn't care about wrestling politics and speaks his mind. There were several episodes where Jim just lets loose and you sit back eating popcorn like a Michael Jackson MEME.
Timeframe and Topics Covered
Jim Crockett and Early WCW, WWF/WWE from '93 to Late '00s, Current AEW
If there was a sleeper podcast out there – this is it. I was never really exposed to Tony Schiavone's work (see 83 Weeks section) so I had no clue what he had to offer. It appeared that Conrad was trying to do something similar to the Bruce/Eric/JR podcasts but things turned sideways. I am glad it did.
Tony and Conrad have an amazing rapport and banter. It often feels like conversations between two high-school friends, razzing each other. Tony's personality is charming and you find yourself rooting for him. He has (low-key) become one of my favorite personalities in wrestling*.
*'Podcasting' Luke Gallows is my absolute favorite.
Timeframe and Topics Covered
Most of the WCW timeline, Few '80s WWF, Current AEW
ARN is the newest of the Conrad podcasts. Anderson was a great wrestler and provided some great promos. Unfortunately, he did this when I refused to watch WCW. Besides watching old matches on the WWE Network, I take everyone's word that Arn was the man.
Much like the others, Conrad talks with Arn about specific topics and events in pro wrestling. Arn is a great storyteller and very articulate with his answers. This has been a great addition.
Timeframe and Topics Covered
Most of WCW timeline, WWE from Early '00s to Late 2010's
Update
A few months after I originally posted this blog, Conrad and his team made a major announcement. Fans seemed to bicker (quite frequently) about the amount of ads on the wrestling podcasts. Although the hosts would do their best to make the ad reads entertaining, it was causing the vocal minority to speak up.
Instead of dropping commercials or telling people to piss off, Conrad turned the negative into gold. He created AdFreeShows.com.
What is Ad Free Shows?
Ad Free Shows (AdFreeShows.com) is a Patreon community featuring Conrad Thompson's wrestling podcasts and exclusive content. There are several membership tiers, with the lowest giving you the normal podcasts AD FREE.
Membership Tiers for AdFreeShows.com
Enhancement Talent for $9 per month
Toot Toot for $29 per month
My Push for $49 per month
Top Guy for $99 per month
Memberships include bonus episodes, exclusive Zoom calls with JR, Tony, Arn, Eric, and Conrad. There are also promotional discounts available for other Conrad Thompson events/activities.
Is Ad Free Shows worth the money?
Yes, but spend the extra money beyond the basic tier.
I am frugal. It would be difficult for me to pay $10 per month just to skip some advertisements. But, I will pay $40 for all of the added content.
I hammer out podcasts and I have a hard time keeping up with everything they release. You get all of the shows early, ad free, and you get so much more.
The bonus episodes of Ask Conrad or (Host) Fires Back is worth the money alone.
Why Did I Pick Podcasts about "Pro Wrestling"?
I have always said that professional wrestling was perfect for me and those born in 1984. The timeline and evolution of wrestling perfectly synced with my progression.
1980's – Cartoon-like characters like huge personalities. (Age 1-6)
Early 1990's – Still cartoon-like characters but focus on athletics (Age 7-13)
Late 1990's – Attitude and Real Life driven stories (Age 13-18)
By the time I reached an adult, I still loved wrestling but WWE bought out the competition and started to focus on a younger demographic. My media options grew and my time to consume shrunk. I stopped watching most of wrestling by 2004. By the time I had kids, the WWE was producing so much content I felt it was too burdensome to try and keep up. It wasn't until October that I gave wrestling another chance.
Even though I can't sit and watch 10-hours worth of wrestling content, I still listen to a lot of podcasts covering WWE and AEW. Listening to some of the Conrad Thompson podcasts helps me relive some of the glory days in my youth where I was 100% consumed with this form of entertainment. Any 'lapsed fan' should give his podcasts a try.
The Podcast/s: Conrad Thompson Wrestling Podcasts
There are so many in the vault, but I would like to leave you with one that I personally remember listening to (on my way back home from Florida). WrestleMania IX is one of my favorite events and Bret Hart (my favorite wrestler) is discussed in this episode.