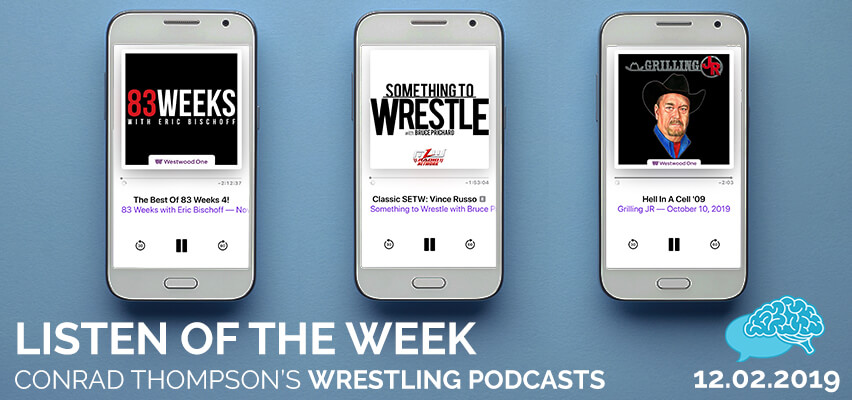 Conrad Thompson Podcasts & Ad Free Shows
This article was originally created as a part of a series where I recommended my favorite podcasts – featuring my narrative and commentary. Since launching to the world, it has transformed into a source where Conrad Thompson fans and wrestling supports land to learn more about AdFreeShows.com and other wrestling podcasts. For that, I have front loaded the content for what THEY want and pushed my original narrative towards the bottom.
Conrad Thompson's Wrestling Podcasts and Ad Free Shows
What started out with just one podcast transformed into five too many to count. All of Conrad's podcasts deal with pro wrestling and most focus on nostalgia and a historic look back at events and personas in the business. Over the years, there have been special one-off series and episodes, along with new personalities, co-hosts, and concepts.
A few months after I originally posted this blog, Conrad and his team made a major announcement. Fans seemed to bicker (quite frequently) about the amount of ads on the wrestling podcasts. Although the hosts would do their best to make the ad reads entertaining, it was causing the vocal minority to speak up.
Instead of dropping commercials or telling people to piss off, Conrad turned the negative into gold. He created AdFreeShows.com.
What is Ad Free Shows?
Ad Free Shows (AdFreeShows.com) is a Patreon community featuring Conrad Thompson's wrestling podcasts and exclusive content. There are several membership tiers, with the lowest giving you the normal podcasts AD FREE.
Membership Tiers for AdFreeShows.com
Enhancement Talent for $9 per month
Toot Toot for $29 per month
My Push for $49 per month
Top Guy for $99 per month
Memberships include bonus episodes, exclusive Zoom calls with JR, Tony, Arn, Eric, and Conrad. There are also promotional discounts available for other Conrad Thompson events/activities.
Is Ad Free Shows worth the money?
Yes, but spend the extra money beyond the basic tier.
I am frugal. It would be difficult for me to pay $10 per month just to skip some advertisements. But, I will pay $40 for all of the added content.
I hammer out podcasts and I have a hard time keeping up with everything they release. You get all of the shows early, ad free, and you get so much more.
The bonus episodes of Ask Conrad or (Host) Fires Back is worth the money alone.
Conrad Thompson's Top Podcasts
Bruce is full of knowledge and backstage insight. Conrad reviews specific news about a specific topic and Bruce tells the stories surrounding the events/wrestlers. Bruce and Conrad have a great rapport and most wrestling fans will find themselves chuckling multiple times per episode.
Bruce Prichard was hired by the WWE in the middle of his run with Conrad. It's amazing that he can continue the pace and produce new episodes, while being a top executive with World Wrestling Entertainment. Once hired, you will notice that they won't speak about the current product (which is reasonable).
"Something to Wrestle with Bruce Prichard" is still the crown jewel of the Ad Free Show network.
Timeframe and Topics Covered
Houston Wrestling, Mid '80s to Early '00s WWF/WWE, Little touch of TNA
Eric Bischoff was my mortal enemy in the Attitude Era. I was so loyal to the WWE that I refused to watch WCW (thinking that my single view would make an impact). Turns out that I missed a lot. Even crazier, I find myself agreeing with Eric's take on wrestling then and now.
This podcast reviews a lot of backstage marketing, numbers, and analytics. Eric Bischoff was running the show (not just helping with creative). Bischoff reviews why decisions were made for the business and not just for the story.
Timeframe and Topics Covered
Late AWA, WCW from '90s to early '00s, WWE in mid '00s
Jim Ross is the voice of wrestling. He is a legendary announcer and he was not shy to podcasting. He had a very successful podcast years ago and was rebranded with Conrad Thompson. Much like Bruce or Eric's podcast, Conrad talks with JR about events and wrestlers.
Jim Ross was the head of Talent Relations for years and the best part – he doesn't care about wrestling politics and speaks his mind. There were several episodes where Jim just lets loose and you sit back eating popcorn like a Michael Jackson MEME.
Timeframe and Topics Covered
Jim Crockett and Early WCW, WWF/WWE from '93 to Late '00s, Current AEW
If there was a sleeper podcast out there – this is it. I was never really exposed to Tony Schiavone's work (see 83 Weeks section) so I had no clue what he had to offer. It appeared that Conrad was trying to do something similar to the Bruce/Eric/JR podcasts but things turned sideways. I am glad it did.
Tony and Conrad have an amazing rapport and banter. It often feels like conversations between two high-school friends, razzing each other. Tony's personality is charming and you find yourself rooting for him. He has (low-key) become one of my favorite personalities in wrestling*.
*'Podcasting' Luke Gallows is my absolute favorite – although you don't hear from him much anymore (04/2023)
Timeframe and Topics Covered
Most of the WCW timeline, Few '80s WWF, Current AEW
ARN is the newest of the Conrad podcasts. Anderson was a great wrestler and provided some great promos. Unfortunately, he did this when I refused to watch WCW. Besides watching old matches on the WWE Network, I take everyone's word that Arn was the man.
Much like the others, Conrad talks with Arn about specific topics and events in pro wrestling. Arn is a great storyteller and very articulate with his answers. This has been a great addition.
Timeframe and Topics Covered
Most of WCW timeline, WWE from Early '00s to Late 2010's
Conrad teased for years that Jeff Jarrett was the "human fast forward button", yet he always teased that he would love to pick the brain of Double J. Jeff Jarrett was a son of a promoter and one of the last active wrestlers that worked in territories, gimmick era, attitude era, and post-WCW buyout days. Not to mention, he was a promoter and founder of TNA.
Boy, Conrad's crystal ball did not disappoint. "My World with Jeff Jarrett" has become one of the best wrestling podcasts on the market. Jeff and Conrad have a great rapport and they bust each other's chops as you would expect from friends. Jeff gets very candid about topics and takes you behind the scenes of some very monumental and political events.
Timeframe and Topics Covered
Late territory, WWE from '90s to early '00s, TNA/Impact Wrestling
Mick Foley joined the Ad Free Show family in the spring of 2022 and has been a wonderful addition. Since the first time I watched "Beyond the Mat", I realized Mick Foley wasn't just some wild-man. This guy is intelligent and articulate. Foley is a fantastic storyteller; he's been doing comedy shows for years.
It's possible that Foley was the pioneer of turning the Ad Free Shows podcasts into videos. Often, Foley will record with Conrad in the same location – which was not the norm for most of the shows. Although I'm not one that watches along on YouTube or Patreon (I listen to podcasts on the go) – the video format is extremely helpful when they are talking about specific moments or matches.
Timeframe and Topics Covered
Late territory (WCCW), '90s WCW, WWE, TNA
Kurt Angle was one of the first "big" additions to the Conrad Thompson Podcast family. The gold medalist was certainly entertaining when the camera came on while in WWE and TNA, so we hoped it would transfer to audio. Conrad started with Kurt and it slowly transferred to Paul Bromwell being the moderator on the show. Kurt and Paul ended up having a much better rapport and flow.
At first, I was going to say that Kurt doesn't get to dive into nostalgia as much since he started in the late '90s…and then I did some math. Although he will talk about some of his olympic days, this is a wrestling podcast so 99% of the topics are about professional wrestling.
Timeframe and Topics Covered
'00s-'20s WWE, TNA
Ric Flair is back with his son-in-law Conrad but this time on the Ad Free Shows network. The reason Conrad is podcasting is from his short-run with Ric Flair's first podcast, "The Ric Flair Show". Years later, Ric would get back into the podcasting world with the "WOOOOO! Nation" podcast. I'm unsure of the details, but that seemed to fall apart and Conrad was able to make sure Ric had a permanent home on the network.
Timeframe and Topics Covered
NWA, JCP, WCW, WWE, TNA (Seriously, Ric Flair has been everywhere and can give an opinion on anything).
Kevin Nash has been called the coolest guy in wrestling (for years). He joined the Ad Free Shows team in June 2022 and has been giving his insight on wrestling past and anything else that comes up in conversation. Nash's podcast is a bit different than the others. Host Sean Oliver and Kevin's banter reminds me of a morning talk show – which is not a bad thing – just different.
Kevin's humor and personality make this an interesting listen. He was part of some of the biggest moments in wrestling – and actually helped shape them.
Timeframe and Topics Covered
'90s WCW, Mid '90s WWE, '00s WCW, TNA
What was originally behind the Patreon paywall, Eric Bischoff and co-host Jon Alba talk all things wrestling business. This podcast is now featured on the "83 Weeks" feed, but the tone and topics are vastly different. Eric would often get on a role at the start of his "83 Weeks" podcast about current events and the impact of what's going on behind the scenes. Much like him, I'm also fascinated with licensing deals, how television ratings impact sponsorships, and the art of formatting a show. It turns out we aren't the only ones. This is now a regular show unlike any others in the Ad Free Shows network.
Timeframe and Topics Covered
Current wrestling – storylines, corporate workings, business deals, stock market, etc… All things "wrestling business".
Brian James – also known in the WWF/WWE days as Road Dogg Jesse James has a pretty storied history. Not only was he one of the most famous wrestlers during the "Attitude Era", he has been helping talent in WWE behind the scenes for years and is part of one of the most famous wrestling families – The Armstrongs.
Casio Kid, frequent guest on other Ad Free Show podcasts, is the co-host of this podcast and brings his additional humor and flavor to the mix. Together they discuss some of the past, some of the current, and general ideas and thoughts about the future of sports-entertainment.
Timeframe and Topics Covered
'90s-'20s WWE, General Wrestling Topics
What was originally named "DDP Snake Pit", the show was rebranded in December 2022 – losing DDP as a member of the podcast. Their run lasted almost 50 episodes, but it seemed to be difficult to get everyone in a room (Conrad, Jake, & Diamond Dallas Page) to record. Having Jake solo on the podcast was not a bad thing. There's no one that controls the microphone much like Jake "The Snake" Roberts. The show is now co-hosted by Marcus DeAngelo and they visit and discuss some of Jake's best and worst moments in wrestling.
Timeframe and Topics Covered
Wrestling Territories, '80s and '90s WCW and WWF.
Matt Hardy has had many personalities over the years. I wasn't quite sure what we were going to get when they announced he would be having his own podcast. I've literally listened to him portray "Broken" Matt Hardy for full podcast interviews. Is that what we would be getting?
No – Matt Hardy is not "broken" in every episode. Co-host Jon Alba and Matt discuss wrestling memories and often discuss what's going on in the current wrestling scene. I've always been a Matt Hardy fan so his podcast is an easy and enjoyable listen.
Timeframe and Topics Covered
'00s WWE, IMPACT Wrestling
Paid Tier Shows
Conrad Thompson and his team has some exclusive content behind a Patreon paywall. If you don't want to hear ads, you can buy the lowest tier. If you want some additional content, pony up $29 per month and you can listen to some additional wrestling podcasts.
Title Chase
Rebel's Happy Hour
Ask Conrad
Conversations with Conrad
The Insiders with Conrad Thompson
Monday Mailbag with Mike Chioda
Monday Mailbag with Nick Patrick
Eric Fires Back
The Book with David Crockett
Time Limit Draw with Lash LeRoux
On-Demand (Live Q&A with Wrestling Podcast Hosts)
Bill Apter Live
WrestleRoasts
Studio Sessions with Jim Ross
Podcast Heat – Wrestling Podcast Network
Ad Free Shows has created some of the best wrestling podcasts on the Internet. Each individual show was being supported or "provided" by a major podcast syndicate. For example, several of the shows were promoted through Westwood One, an American radio network. Originally, some of the shows were linked to the MLW Radio Network.
It was smart to partner with someone like Westwood One. They offer a vast network of affiliates and their reach would create greater exposure. It would also be easier to find sponsorship and advertisers. But I'm sure, there are also some drawbacks.
I don't remember there being a big announcement, but in 2022 the phase "Podcast Heat" was mentioned. Although they are not strictly wrestling podcasts, "Podcast Heat" is now the home of Conrad Thompson's Wrestling Podcasts.
The most notable wrestling podcast that is on the Podcast Heat website and not included in the Ad Free Shows network is FTR with Dax Harwood.
Retired Conrad Thompson Wrestling Podcasts
Conrad Thompson has worked with several pro wrestlers and sport entertainment personalities over the years, creating original podcasts – but not all of them were longterm successes. Whether their was scheduling conflicts, lack of an audience, or other business responsibilities, the Ad Free Show Wrestling Podcast Network has retired several podcasts from their network.
"FTR with Dax Harwood"
Dax Harwood, All Elite Wrestling wrestler and former WWE superstar, teamed up with Matt Koon (frequent wrestling podcast co-host) to talk all things wrestling. Dax took over the William Regal feed and started off hot….talking CM Punk.
From January to April (2023), Dax would give his thoughts on wrestling – current and past. In April, he announced that he would no longer be recording for the podcast.
"X-Ray with Dr. Tom Prichard"
Dr. Tom Prichard is known as one of the best pro wrestling trainers and technical minds in all of sports entertainment. It also helps that his brother is the "top guy" in the Ad Free Shows family. "X-Ray with Dr. Tom Prichard" was best served as a video podcast. He would talk with co-host Paul Bromwell and review matches as a tape-review. This was a masters class for any up-and-coming pro wrestler, but also an enjoyable look into the art of pro wrestling.
Although we've never heard a formal retirement, the last episode (as of this writing) was released in January 2022.
"Gentleman Villain" with William Regal
William Regal was released from the WWE system and was quickly snatched up by AEW and Conrad Thompson's Ad Free Shows. William (also known as Lord Steven) Regal had a long, journeyed career – starting back in Great Britain. Better yet, Regal is a great speaker and always an interesting interview.
The podcast went on for several months before Regal decided to make his way back to World Wrestling Entertainment. The podcast feed was then transferred to "FTR with Dax Harwood".
"That Was Extreme" with The Blue Meanie, Joel Gertner, and Josh Shernoff
There was a missing gap in the Ad Free Shows content library and it was EXTREME. Okay, it that's being a bit overdramatic, but there wasn't an Extreme Championship Wrestling focused show on the network. This is when some ECW veterans joined up and relived the moments and memories of ECW in the '90s.
Josh Shernoff, host of "So Says Shernoff" on FITE, would chat it up with The Blue Meanie and "The Quintessential Stud Muffin" about all things ECW. This show seemed to be short lived and just disappeared from the feed at the end of 2021. Via the Twitter page (@ThatWasExtreme), it looks like they moved to the Premier Streaming Network – but they haven't posted since.
"ManceSplainin" with Independent Wrestler Mance Warner
I was not familiar with Mance Warner. Conrad Thompson would mention him from time to time on his podcasts as a wrestler you should keep an eye on. He showed up on the Ad Free Show feed with his own podcast in late 2020.
With a clever name and premise, Mance would explain wrestling to non-wrestling fans. The show continued for a year but seemed to dissolve at the end of 2021.
"On the Road" – Jim Ross and Tony Schiavone
Remember 2020 and the pandemic? Life was different then and so was wrestling. Amidst all of the bad and crazy, we were exposed to conversations between the Hall of Famer Jim Ross and legendary Tony Schiavone. This limited series gave us audio snippets of their car ride – traveling to All Elite Wrestlings weekly television tapings.
The audio on these shows aren't great, but beggars can't be choosers. It's Jim Ross and Tony Schiavone talking wrestling! I'm not asking for another pandemic, but I wouldn't mind some new "On the Road" episodes.
"Book Club" – Wrestling Podcast with Authors
Although "Book Club" could come back, there has been a hiatus in episodes so it's likely that there just wasn't a large enough audience or enough individuals that joined in on the action. "Book Club" allowed upper tier members a chance to join in a Q&A session with the author of a popular wrestling book. Author Jonathan Plombon, Mike Mooneyham, Liam O'Rourke, and John Arezzi all took part in this show during 2021.
"Sad News Bears" – Conrad Thompson's Friends
Over the years, there have been stories about Conrad's friends and several of them have ended up on the podcast. On many occasions, Conrad and his wrestling co-host bust the chops of the proclaimed "Sad News Bears" and the audience joined in on the fun. On many occasions, the show was hosted by Casio Kid and he is joined by Dave Silva, Pond Water Dave, Rotten Crouch, Mark Nelson, and "Gimmick Attorney" Mike Dockins.
"Dark Side of the Podcast" – Evan Husney and Jason Eisener
"Dark Side of the Podcast" is a deeper look into the VICE television series "Dark Side of the Ring". Creators Evan Husney and Jason Eisener discuss the stories leading up to the interviews, how the ideas came about, and segments that did not make the air.
It's been a popular trend over the years to create a "talk show" with guests and creators, discussing individual series. This limited podcast series did just that. There was some backlash with the "Plane Ride from Hell" episode, so I'm not sure if this segment will make it back on the feed if "Dark Side of the Ring" gets green-lighted for additional seasons.
"Swoggle Short Stories" with Dylan Postl
Okay…I have no idea how I missed this one. WWE superstar Hornswoggle, now known as Swoggle, hosted an animated series behind the Patreon paywall featuring members of the Ad Free Shows team. It was introduced in November 2020 and seemed to end in 2022. As much as I would love to give you all the details (who animated, where did the idea come from, etc….), I literally didn't know this existed until visiting the archives of AdFreeShows.com.
"Let's Go to the Ring"
With a very interesting (but awesome) concept, the Ad Free Shows team put together a limited series where JR and Tony call the action for some of the most famous wrestling matches. Although there are only three episodes (Savage vs. Steamboat, Michaels vs. Ramon, and Undertaker vs. Lesnar), it's worth a listen to hear two legends call some of the classics.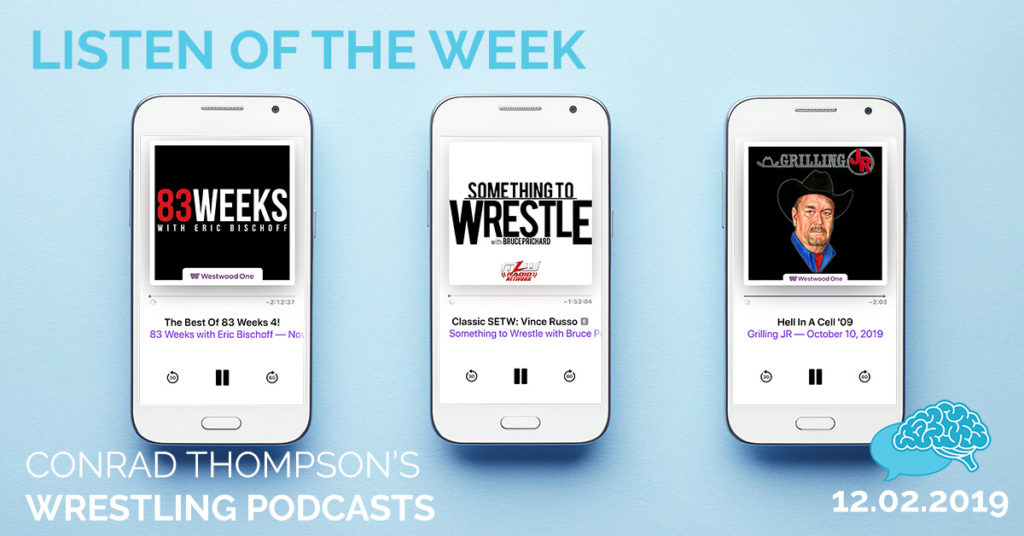 My Introduction to Conrad Thompson's Podcasts (The Original Blog)
Several times a year I find myself in a van driving for hours (usually 17-hours). This, of course, is my family's vacation to Walt Disney World. In lieu of flying (to save a few bucks), we drive. The majority of the driving is done late at night and coffee can only get me so far. While everyone else is sleeping, I listen to the dialogue of my friends via podcasts.
I was getting recommendations from my good friend Justin Benline that I should listen to Something to Wrestle with Bruce Prichard. At this time, I was listening to several wrestling podcasts (even though I was not watching actual pro wrestling on TV). Chris Jericho and Steve Austin produced very entertaining podcasts and I figured I would give Bruce a try.
Something to Wrestle with Bruce Prichard had a backlog of hundreds of shows. Some of the shows were several hours long. Some of these podcasts would help take out some of this 17-hour drive.
Who is Bruce Prichard?
I was a hardcore (HARDCORE) wrestling fan in the late '90s. I was aware of most of the backstage hands in the WWE (WWF at the time) and I knew who Bruce Prichard was. Most fans probably knew him as Brother Love (from the '80s) but I was always aware that he had a hand in the whole operation. I thought he was just another guy. I wasn't aware that he was pretty much Vince McMahon's right-hand man for years.
Who is Conrad Thompson?
Conrad Thompson was not a name I was familiar with. I figured he was some professional host that was teamed up with Bruce for the podcast. Little did I know, I probably sampled Conrad before listening to Something to Wrestle.
Conrad Thompson hosted a very short-lived podcast with Ric Flair. Conrad had a previous relationship with Ric and was asked to help launch his podcast. This relationship with Ric also opened many doors to other wrestlers and personalities – leading him to Bruce Prichard.
Conrad explains he is just a fan. This is 100% true. He is passionate about the product and is a great voice for the wrestling fans out there. Conrad runs a very successful business in Alabama – and you can tell he has his stuff together. Although he is just a fan, he has become a very big part of professional wrestling over the years.
Why Did I Pick Podcasts about "Pro Wrestling"?
I have always said that professional wrestling was perfect for me and those born in 1984. The timeline and evolution of wrestling perfectly synced with my progression.
1980's – Cartoon-like characters like huge personalities. (Age 1-6)
Early 1990's – Still cartoon-like characters but focus on athletics (Age 7-13)
Late 1990's – Attitude and Real Life driven stories (Age 13-18)
By the time I reached an adult, I still loved wrestling but WWE bought out the competition and started to focus on a younger demographic. My media options grew and my time to consume shrunk. I stopped watching most of wrestling by 2004. By the time I had kids, the WWE was producing so much content I felt it was too burdensome to try and keep up. It wasn't until October that I gave wrestling another chance.
Even though I can't sit and watch 10-hours worth of wrestling content, I still listen to a lot of podcasts covering WWE and AEW. Listening to some of the Conrad Thompson podcasts helps me relive some of the glory days in my youth where I was 100% consumed with this form of entertainment. Any 'lapsed fan' should give his podcasts a try.
The Podcast: Conrad Thompson Wrestling Podcasts
There are so many in the vault, but I would like to leave you with one that I personally remember listening to (on my way back home from Florida). WrestleMania IX is one of my favorite events and Bret Hart (my favorite wrestler) is discussed in this episode.