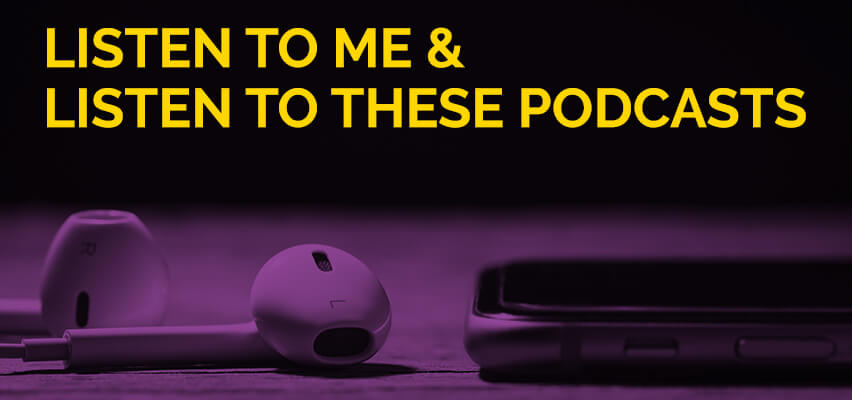 Listen to Me and Listen to These Podcasts
I was an early adopter in the podcast trend. I'm not saying I was the first in the Ohio Valley to discover podcast, but I was definitely in the first 10%. My brother introduced me to the idea and my first podcast was The Nerdist. I loved the idea I could listen to conversations between my favorite personalities.
Soon I discovered that it wasn't just celebrity interviews. I found topic-specific podcasts. The Fantasy Focus was an amazing podcast about fantasy football that seemed like a morning talk show. The Art of Wrestling was an independent wrestler Colt Cabana talking to other wrestlers. I even found a few scripted podcasts that seemed more like documentaries. After a year or so of just listening, I even attempted and produced a few of my own. Along with some friends, we recorded some comedy podcasts that I hosted on my early websites. These podcasts never made their way to Apple and were lost over the years.
Since I have discovered countless podcasts about every imaginable topic. I have sampled podcasts about the stock market, the paranormal, inventors, music, and even podcasting. The majority of my entertainment intake is Podcasts.
How Many Podcasts Do I Consume?
I just counted and I am subscribed to 128 podcasts. Some are daily, some release multiple episodes per week, and others release once a month. I have a few that are 15 minutes an episode and others that are two-plus hours. There is a lot of content to be consumed.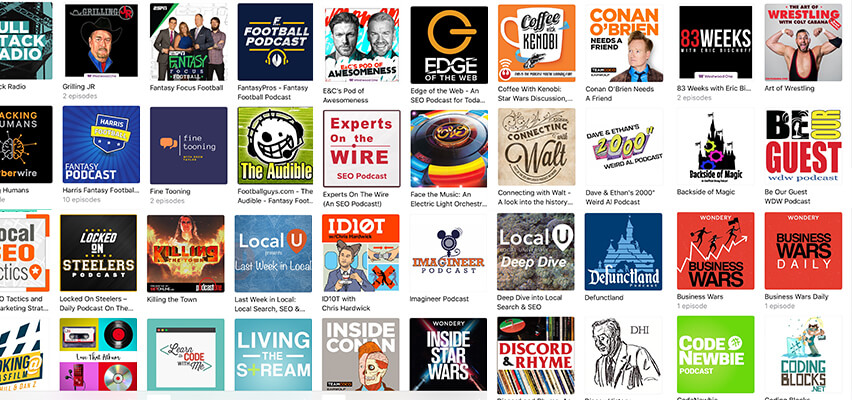 If you do the math, there is no way I have enough time to listen to all of these. You are correct, I am selective on the topics and episodes I listen to. Most importantly, I have trained my brain to listen to everything at 2x speed. Yes, many of my podcasters might sound like Alvin and the Chipmunks to the common ear. But, I can consume twice as much content by having them sped up a bit.
Since I work alone at a computer the majority of the day, I always have something playing.
If I am writing code – podcast.
As I am designing – podcast.
While I review analytics – podcasts.
If I am writing – music (some things my brain just can't handle).
If I work for 10 hours in a day, I'm probably consuming 18 hours worth of content.
What Podcast Will I Recommend?
I do have a very diverse catalog of subscriptions. Currently, I subscribe to several categories/genres:
SEO and Website Optimization
Social Media Marketing
Graphic and Web Design
WordPress
Fantasy Football
History and Biographical
Comedy
Professional Wrestling
Television and Movie Reviews
Finance
News
Disney Parks Planning and History
There are other podcast categories but I covered the majority. Considering most of you are here for website and marketing tips, I don't expect you to care about my Disney podcasts. I might, however, share an episode of a Finance podcast because they review some small business tips and tricks.
The goal is to recommend episodes and podcasts that bring value to your life.
Each week (Monday) I will give you a podcast and a reason why you should listen. Piggyback on my crazy listening habits and let me filter out the noise so you can hear the buzz.