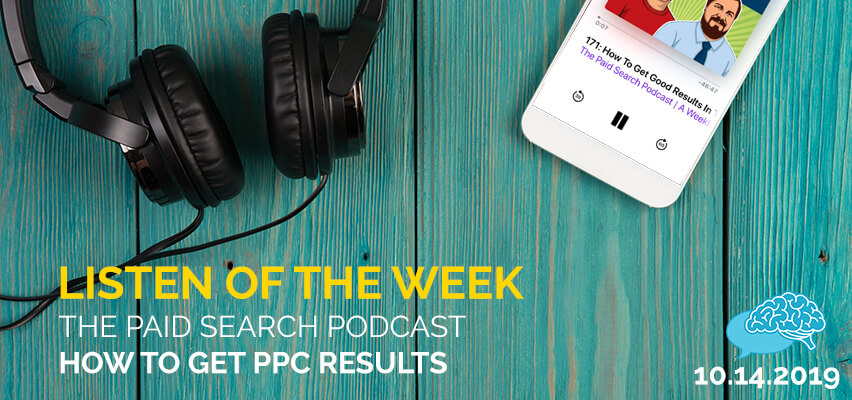 How to Get PPC Results
Since we are focusing on PPC, why not recommend a podcast devoted to Paid Search.
I came across this podcast last month when I was prepping for my blogs. Often I will do research online, watch some videos on YouTube, and search for the topic on Apple Podcasts. A healthy dose of things to read, things to watch, and things to listen to help me educate and research wherever I'm at.
I could –
learn how to create a PPC campaign from watching a Lynda training video while walking on a treadmill.
read an interesting PPC article from The Search Engine Journal in my bed while my wife watches another Bravo Housewives show.
listen to a podcast about getting PPC results while driving my kids to school in the morning.
If I really need to educate myself, I'm prepared to hammer out the material in one day.
The Premise of The Paid Search Podcast
Since I just stumbled upon the podcast, the premise seems simple (and in the title). The Paid Search Podcast talks about paid Search. This means PPC (pay-per-click) through Google Ads. I imagine they talk about other options (Bing), but it's early in my listening so I have no idea.
The hosts have extensive knowledge on the topic and seem to be real experts.
In 2003 Chris Schaeffer setup his very first Google AdWords campaign and five years later he started his own AdWords consulting business out of his home. Chris lives in the Tyler area and provides AdWords management services to clients around the world.

About Chris from The Paid Search Podcast
Jason Rothman is a Premier Google Partner and Google Ads consultant based in Oklahoma City, Oklahoma. Jason is AdWords Certified by Google and manages AdWords campaigns for clients across the world.

About Jason from The Paid Search Podcast
This weekly podcast can help give you the information needed to stay up to date with PPC news and learn how to run the best PPC campaigns.
Why Did I Pick the Episode on How to Get PPC Results?
For business owners trying Google Ads for the first time, it can seem pretty complex. I imagine many first-timers are looking for the best ways to learn how to create the best PPC campaigns. Although this podcast doesn't give you step by step directions, they do review some of the key aspects to creating a successful campaign – fast.
The last thing any business owner wants to do is burn away advertising money. The problem with most PPC campaigns is that people make some critical (small) errors that end up costing you a large percent of your budget. The hosts of the podcast review some of the possible errors and tricks to optimize your campaign within the first month.
How many ad groups to setup
The optimal amount of keywords
Whether or not to use location ad groups
Bid starting price
Ad copy – Headlines and Description
Exact match and modifiers
If you are brand new to PPC, may I suggest a great Lynda course to learn how to set up a PPC campaign through Google Ads.
Google Ads (Adwords) Essential Training
If you take the time to watch this course, everything in this podcast makes sense. It's next-level help.
The Podcast
Pro-tip: The action starts at 12 minutes.