How To Do Keyword Research
There I was, sitting at a desk in Steubenville, Ohio.
I week ago I was offered a job, even though it wasn't the job I applied for. They made up the job because the interviewer said they needed someone like me on their team. He walked me into Jim Emmerling's office (owner of Em-Media in Steubenville/Wheeling/Pittsburgh). After a few minutes of talking, Jim gave me a verbal offer and an hourly rate. I was now freelancing for Em-Media – a well known Ohio Valley Advertising Agency.
What was I supposed to be doing?
This was my first hired creative job, with an actual team. I've been working freelance as an individual for a while, but it was always moonlighting and doing side projects. This was my entire job now. I would give Em-Media 20-hours a week of web design and development work. More importantly, I would start working with clients on their SEO efforts. Before me, I don't know if anyone at Em Media ever heard of search engine optimization.
I was sitting at my desk with one direction. "Go through all of our clients and tell me what needs fixed (on their websites)".
Welcome to digital marketing, Eric.
How to Fix the Websites
Up until this point, I was making all of my websites from scratch. It's not that I was an elitist and hated content management systems (even though I was borderline), I just didn't know any different. All of my training documents and videos showed me how to make the watch – not just tell the time. Part of this training was clean code and HTML structure.
After making my lists of clients and reviewing their site outlines, I was ready to play. I came across Cattrell Companies in Toronto, Ohio. My father-in-law actually retired from this company and the owner was at my wedding. They had a website made in WordPress – designed only a few weeks earlier by an Em-Media content writer turned into makeshift designer. The next few weeks I learned how to modify WordPress templates so I could add in <sections>, <articles>, and logical headings.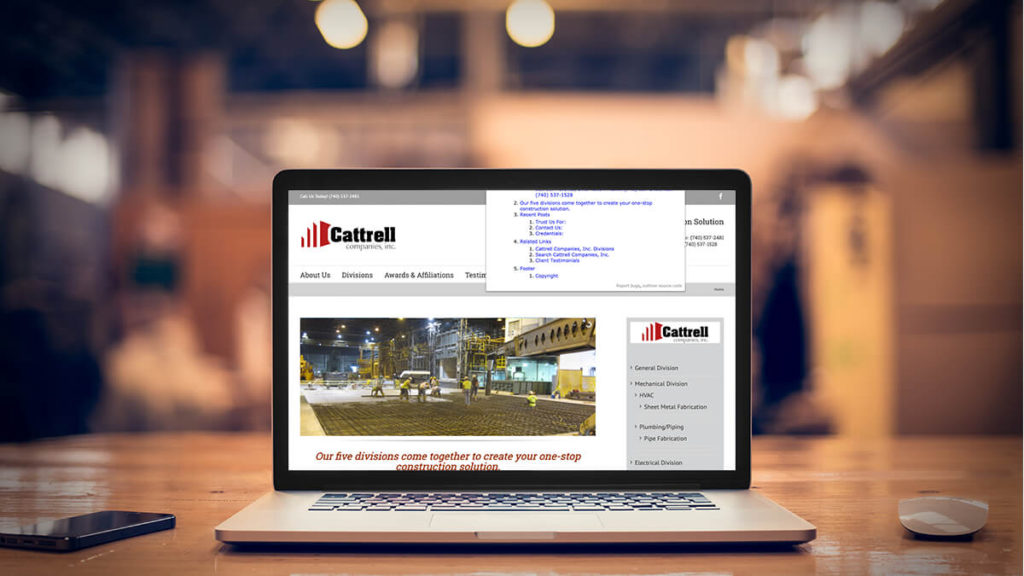 I did everything I was taught on Team Treehouse, Lynda.com, and my "how to code" books. Now what? The site structure was fixed. Google would be happy(ier).
How to Track Website Success
The entire goal of cleaning up the website was to convert more online searches to their website. If Google and search engines understood their content better, they would also give them better position in the SERP (search engine results page). Sadly, I didn't know about Search Console at the time, but did know of a few free tools (now defunct) that let you search website position for select terms.
I played around with some base terms: "construction company", "contractors", "commercial builders". The tools would freeze and it would become frustrating. There was no way I could do this every week.
What other tools could I use?
Finding Moz – Keyword Research and SEO Software
I went to Jim Emmerling and told him we needed a tool to track ranking results. They were paying for HubSpot for several clients – but Cattrell was not one of them. At the time, HubSpot allowed you to track keywords and week-over-week changes. I wanted to use something similar.
The first and best option I found was Moz. I'm not sure exactly who recommended Moz. I probably did my own Googling to compare options.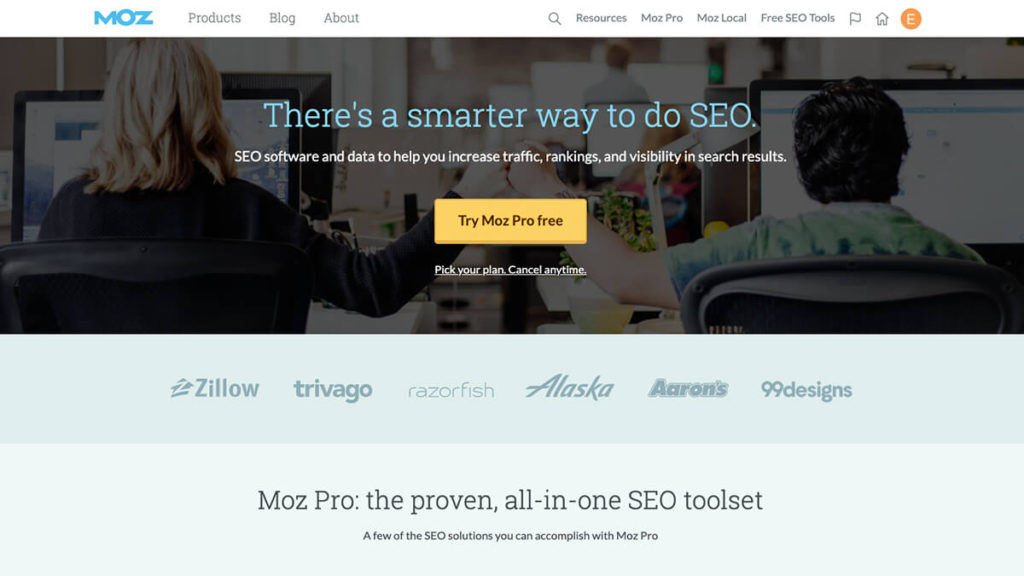 I gave my suggestion and with the corporate credit card signed up for a monthly account.
What is Moz?
Moz can probably tell you best:
At Moz, we believe there is a better way to do marketing. A more valuable, less invasive way where customers are earned rather than bought. We're obsessively passionate about it, and our mission is to help people achieve it. We focus on search engine optimization (SEO). It's one of the least understood and least transparent aspects of great marketing, and we see that as an opportunity: We're excited to simplify SEO for everyone through our software, education, and community.

About Moz
Okay – maybe we shouldn't rely on their corporate message to tell us about Moz.
What is Moz? The Eric Hersey Version
Moz is a website/tool that helps business owners, digital marketing agencies, and webmasters better understand their web traffic and visibility. There are several free tools and others that you pay for on a subscription basis. Some of the best Moz tools are:
Moz helps you track your keywords, domain authority, backlinks, competitors, and much more. They are in a highly competitive environment – fighting for SEOs and Digital Agencies business. Many trusted digital marketers use Moz for their research and reports.
Did Moz Work?
Yes, Moz did work. On the other hand, Eric didn't quite work. See, I wasn't fully aware of the customer intent and importance of Local SEO at the time. Remember when I said this was my first run with a "full-time" creative position? I still had a lot to learn.
I was tracking the generic terms and hoping that just fixing the site outline was going to help this client with all of their problems. Little did I know that we would have to be more systematic to win local search (with Google My Business) and create a detailed content marketing strategy to win the keywords for conversion.
I basically picked a handful of their product/services and threw them into the keyword ranking tracker. They were better off because of my changes, but it would take a little more time on the job before I got it down just right.
The Premise of Agents of Change
Nearly a year later, Agents of Change and Rich Brooks gets another nod. Last year we touched on being an SEO Agency, this year we are back in the mix with SEO and Keyword Research.
I discovered the Agents of Change podcast at the start of my Focus of the Month initiative and I've been subscribed and listening ever since. Rich interviews knowledgable individuals in the digital marketing space – weekly. I've grabbed some great insights and perspectives over the year.
I remember listening to a wonderful episode in August 2020 where he and his guest went through (extensively) researching a series of keywords. I was cleaning my new basement so I couldn't watch along on video – but I did take note that this was going to be a podcast I would feature in the future.
And here we are.
Why Did I Pick a Podcast about "Keyword Research"?
It's fitting that his guest on this episode was Cyrus Shepard from Moz. They go through an entire process of researching keywords using the Moz tools (and several others). You can officially just listen, but watching and playing along is a good exercise.
Rich and Cyrus touch on the following:
What you think you want to rank for and what people are searching for.
Seed Keywords – What are they?
Using Competitor websites as a cheat.
Deleting Brand Keywords.
Content Briefs and Explanations.
If you listen or watch this video, you will be way better off today than you were yesterday.
The Podcast: "How to Do Keyword Research for Any Industry"
If you don't want to watch, feel free to listen. The entire episode is necessary to follow-along and understand.
Watch the video on AgentsofChange.com
Tags In