Starting a YouTube Channel
It's super easy to start a YouTube channel. Honestly, if you have a Gmail account, you are one click away from having a YouTube channel.
It's so easy that I think it's too easy.
Much like other social media accounts, you can create an account with very little effort and preparation. This means that every half-baked idea or business creates an account. Over the years you have millions of abandoned accounts with little to no content.
Let's pretend that there were a few more required fields in order to set up an account. With these added requirements, we will know who is for real.
The Basics for Creating a YouTube Channel
These are intended for YouTube but also apply to other social media accounts
YouTube Profile Picture
I remember the egg for Twitter and the grey silhouette on Facebook. In my opinion, you are lazy or lack personality if you never got around to changing your profile picture. I imagine anyone reading this is actually trying to improve their brand or business – so I doubt you are leaving your image as the default. Instead, I beg you to use the right image ratio!
YouTube's profile image is 800×800. It would be great if you could use the exact size, but if not – make sure it's the same ratio. Even if larger, YouTube will shrink it down to fit. But if you upload an image that is too long or too tall, you will have to crop something.
This profile image is part of your branding. A cropped image makes you look lazy or unprofessional.
Banner Photo (Cover Photo)
If you are lucky enough to get someone to click on your YouTube Channel, don't bore them with the default cover graphic.
This is prime real estate to showcase your message or brand. Just like your Facebook cover photo, utilize this space to your advantage. Add a message about your latest video or sale. Maybe you want to promote your other social media channels.
Once again, try and get the size right. The cover art might display a bit different on different screens. Try and factor that in when you create your graphic. The ideal YouTube Banner size is 2560×1440.
About and Descriptions
Imagine heading to a website and clicking the businesses about page and it being a blank screen. That's what we are doing when we fail to fill out our about section. If you are a business, fill this out with all of your pertinent information – Name, Address, Phone, Email, and website.
Utilize this entire section to help tell YouTube and Google all about your business. The more Google knows, the more likely this page can help your local rank. If you read and listened to last week's recommendation, you know all about this.
Thumbnails
If you upload a video, upload a custom thumbnail. Yes, this takes time. It also might cost you money (if you don't have a graphic designer or access to a photo editing program). The thumbnails might be the single most important element of your video. A successful thumbnail gets the user to click. You won't get any views if the user isn't intrigued enough to click.
There are plenty of guides out there that talk about thumbnails. Stick with me and in a few weeks I deep dive with another podcast recommendation.
Oh by the way, Canva has default thumbnail templates. No excuses now.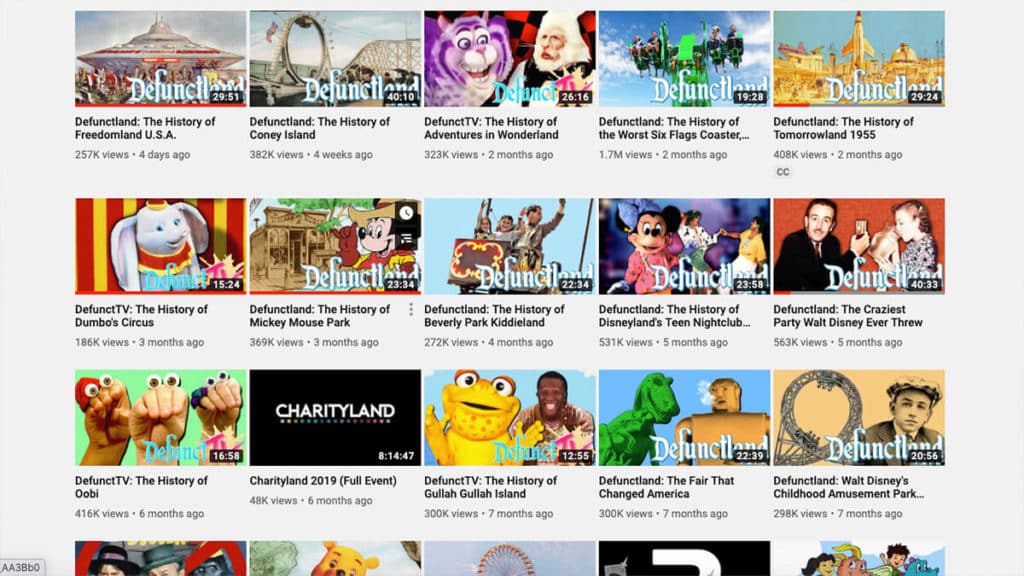 That was easy, wasn't it? It was only a few simple steps. If these were requirements, we would have far better looking, more professional YouTube Channels. But these mostly deal with cosmetics. I also found a podcast that talks a little more about content and actions in your videos.
The Premise of The Digital Lounge Podcast
Although I had a backlog of recommended podcasts dealing with video, I wanted some new blood. Discovering new podcasts is important. I listen to the same hosts each week and always want a fresh perspective. An Apple Podcast search landed me on The Digital Lounge Podcast.
Jessica Freeman from Jess Creatives shares her online business and blogging strategies, so you can save time and look good online. Discover how you can create a sustainable business that works for you so that you can have a business and life you love. Jess talks about automation, content creation, web design, search engine optimization, building authority and trust, social media, YouTube, podcasting, getting things done and everything that works (and doesn't work) to help you better understand how to improve your online presence with these short, actionable episodes targeted to help online entrepreneurs.

Digital Lounge Podcast Description on Apple Podcasts
Turns out – Jess is mostly a digital marketing consultant for Health and Fitness Coaches. That's fine with me. Her tips apply to more than just health and wellness. I will gladly piggy-back off of her ideas.
Why Did I Pick a Podcast about Starting a YouTube Channel?
YouTube and the Ohio Valley are not the best of friends. And if they are – it's a closet friendship. Truth be told, there are very few known channels in Wheeling, Steubenville, or St. Clairsville that have gone mainstream.
There are a ton of businesses in the area. 95% of these local businesses have Facebook. If you have a Facebook – you have what it takes to create a YouTube channel. Creating a YouTube channel and adding some content can help your online visibility and might even help you convert someone to a customer.
My recommended podcast does a good job giving you some basic tips and tricks for starting a channel. Most importantly, she reviews what you shouldn't do. Some of the items covered in the podcast are:
What Topics to Pick for your videos
How to increase your video engagement
The impact of subscribers and how you can convert to email subscribers
Ways to get viewers to come back
Overall, she does a great job giving you 10-minutes of action based information.
The Podcast: "How to Avoid the 3 Common Frustrations of Starting a YouTube Channel"
Guys, this is a quick listen. The action starts about 3-minutes in.
Tags In